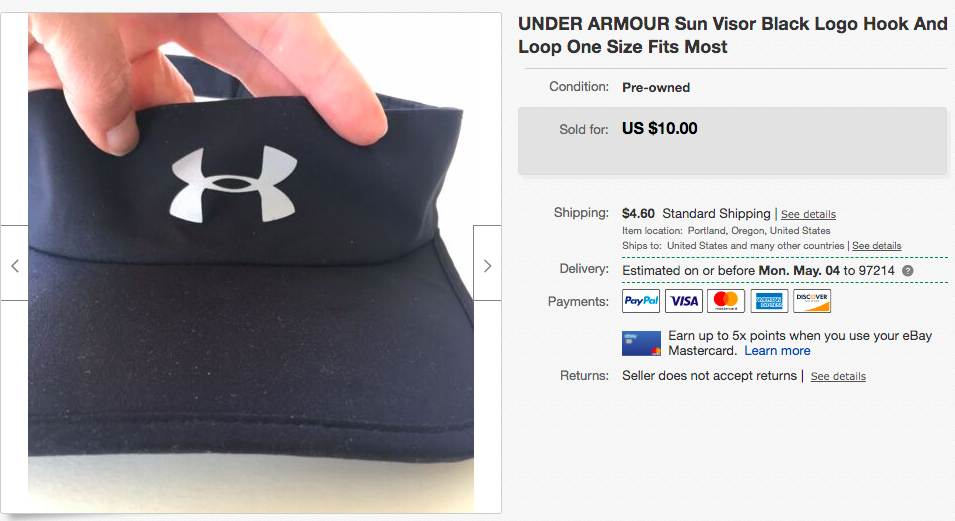 My eBay continues to putter along, and although no individual sale will knock your socks off, it still added up quite respectably.

My favorite sales were:

• A new in box Ikea slipcover that I picked up at Goodwill a couple years ago. I bought two that day, and still have one to go. Turned out to not have been such a great find, but I'm happy to have finally unloaded this one.

• A Patti Smith concert hoodie that sold to a friend.

• A cool vintage classroom style clock, that sold through Facebook Marketplace.

• An Under Armour brand visor that I found washed up on my sister's Bronx, NY beach. (It cleaned up perfectly.) I deeply love that I found a new home for this abandoned item.

Most these sales had been listed for months, which is a good example of how reselling often requires a hefty dose of patience.

My husband and I drove down to Eugene, Oregon with our son to clean out his college apartment. We're eight months into a twelve-month lease and are hoping to find someone to sublet and take over this financial responsibility, as he now lives at home due to the Covid-19 pandemic.

We 110% micocleaned the apartment to give ourselves the best chance of finding a new tenant. If we continue to pay rent on an empty apartment, it won't be because we didn't give it our best effort.

My husband and I cut his hair and it actually turned out pretty good. He did the part with the electric clippers and I batted cleanup with a simple pair of scissors. We were both pleasantly surprised with the results and my husband can once again venture out in public with his head held high. (He works as a first responder, so he's not housebound like the rest of us.)

We got our son a free McDonald's first responder's meal through my husband's work ID, I finished listening to The Book Woman of Troublesome Creek audiobook through the library's free Libby app, I honed my thrifting eye by watching hours of reselling YouTube videos from ReadySetResell, I gifted a jar of yeast to a friend, I listed some fabric on eBay that had been languishing in my sewing basket and I may have created enough homemade meals to time travel back to the oppressive 1950s.

I didn't buy a Lear Jet or a vulgar gold-plated apartment in the sky.
Now your turn. What frugal things have you been up to?
Katy Wolk-Stanley    
"Use it up, wear it out, make it do or do without."