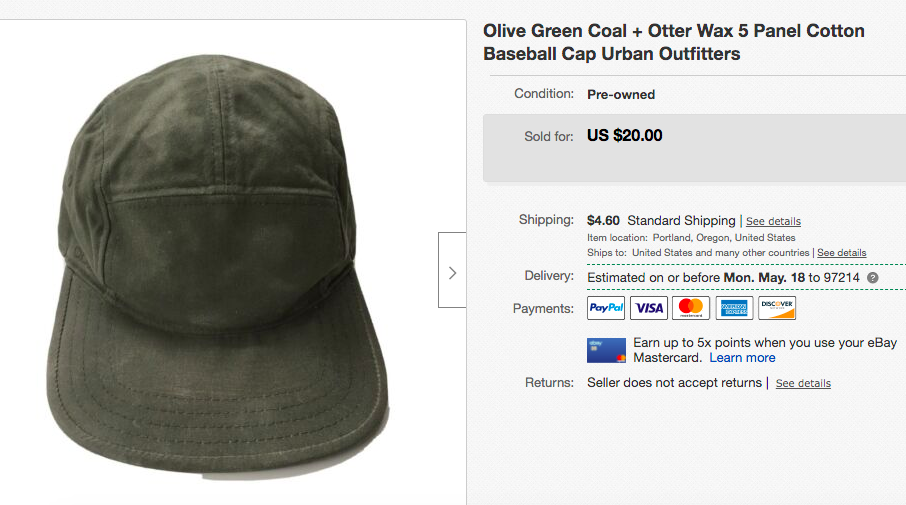 My eBay sales were dismal, which seems to be the theme lately. However I did sell a few things.

• The tree pieces from a Ravensburger Enchanted Forest game. This is part of an experiment to see if it's possible to piece out a board game and make significantly more than if I'd sold the complete game. I've now made $20 from this $3 thrifted game, and could conceivably make an additional $20.

• An Ikea duvet cover with matching pillows cases that I pulled out of a Goodwill bin. Since I paid by the pound for these lightweight items, I know my initial investment was just a couple of bucks.

• A Fiestaware mini disc pitcher that I remember was just $1.99 from a suburban Portland Goodwill. (I have an almost photographic memory for my thrifted finds!)

• More of my daughter's Shonen Jump magazines. I utilized my son's college apartment bookcase to organize the manga, which greatly helps when trying to find single magazines from the 100+ that I listed on eBay.

• A five-panel baseball cap that I pulled out of a neighbor's free box last summer. My son was going to keep it, but changed his mind. I was asking $20, but accepted a $15 offer since my initial investment was zero. Just happy to put unwanted items into the hands, (or onto the heads) of people who value them.

I pieced out a thrifted Ticket To Ride board game to continue the experiment with maximizing profit from a supposed single item. (I'd tried listing the game on Facebook Marketplace, but it got flagged as prohibited as it included the word "ticket!") There are enough finicky little pieces included in the game to conceivably make over $100. Who knows? Can't hurt to try!

After years of feeling like a Frugal Fraud™, I finally convinced my husband that it was time to cancel our cable TV service! Granted, we'd chosen the lowest possible package that included sportball, but it'll still save us $60/month as I was able to bring our internet service down an additional $10/month with the same phone call. My husband is an avid soccer fan, but since spectator sports stopped existing, this was a no brainer.

We still get Netflix, Hulu, Amazon Prime, plus Sling, (currently free every evening) through our Roku box, which allows my husband to watch CNN live. We also have an old digital roof antenna, which provides additional local options. It seems like there really are endless free streaming options including the library's Kanopy service.

Not too shabby, considering that I grew up with just ABC, CBS, NBC, PBS and a single local channel. If we're un-entertained. It'll be our own damned fault!

I confirmed that we were credited the $50 for returning our son's extra electronic key fob to his apartment building, I started reading Louise Erdrich's The Night Watchman, which is one of the three physical library books that I had randomly checked out when our branches closed. (I'd started it when I first checked it out, but didn't have the focus at the time.) I finished listening to a library audiobook of Celeste Ng's excellent Everything I Never Told You, I scored two 5-pound sale bags of black beans at Safeway, my friend Lise is giving me a couple of tomato starts and I sit at home going almost nowhere and spending no money.

I didn't buy a Lear Jet or a vulgar gold-plated apartment in the sky.
Now your turn. What frugal things have you been up to?
Katy Wolk-Stanley    
"Use it up, wear it out, make it do or do without."
Click HERE to follow The Non-Consumer Advocate on Twitter.
Click HERE to follow The Non-Consumer Advocate on Instagram.
Click HERE to join The Non-Consumer Advocate Facebook group.
Click HERE to follow The Non-Consumer Advocate on Pinterest.
Disclosure: This blog post includes affiliate links, which may earn you a discount, as well as a small commission for me. This costs nothing extra to you.