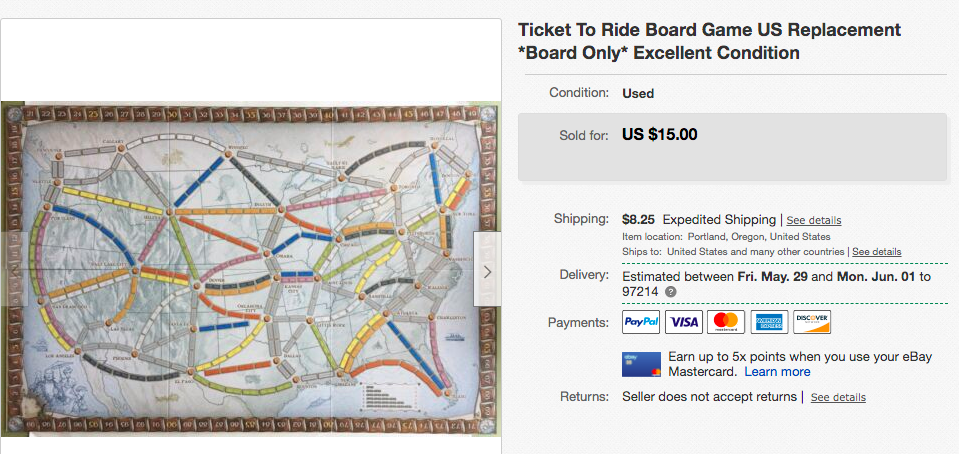 Hoo boy, it's getting harder and harder to write these posts. Although I'm certainly practicing the extremist of extreme non-consumerism, it's super boring stuff like "prepared all meals from scratch, most of which were bean based" and "used almost no gasoline."
Far from gripping material.
SO BORING! Boring to write and boring to read.
I sold a few things here and there, not impressive "found it on the side of the road and then sold it for $1000," level of narrative, but still respectable. Especially since a number of my sales were items just sitting around my house. While others may see "clutter," I see "inventory."

Here's what sold:

• My experiment to piece out a Ticket To Ride game and sell the component parts individually has been a success. So far I've sold the wooden player pieces, the game board, plus two categories of player cards. $50 from a single game with many more bits and bobs still to sell. (eBay)
• A Fiestaware mini disc pitcher that had been collecting dust in my built-in buffet. Not something that I used or appreciated, so I'm happy to send it off to a new home. (eBay)
• A vintage ceramic rooster that I picked up at Goodwill right before the quarantine. (eBay)
• Two Ikea new-in-box slipcovers that had been stored in my spare bedroom closet since I thrifted them over year ago. I'd been sitting on them for ages, and had assumed they'd never sell, but was wrong. Just had to close all the brick and mortar Ikeas to make it happen. (Facebook Marketplace)
• A new-in-package curtain panel. (Ebay)
• A handmade craftsman-style bookshelf that I'd thrifted, and would have been happy to keep had it not sold. (Facebook Marketplace)
• A macrame wall hanging. (Facebook Marketplace)
• A dozen or so of my daughter's Shonen Jump magazines. (eBay)

My most important non-consumer news is that we finally found someone to take over on our son's apartment lease down in Eugene, Oregon! Covid-19 turned the lives of university students upside down, which emptied out my son's large apartment complex. All in the middle of countless 12-month leases.

Getting to this point took attention to a thousand details related to readying the apartment, communication with the property management office, attending to apartment details and emailing back and forth with a multiple prospective tenants. We ended up paying rent on our son's empty apartment for the months of April and May, and are now spared from paying for the months of June, July and August. (When the lease ends.) The new tenant even paid us for the last week of May, so we even got a bit back.

The task of finding a new tenant has been an almost daily task since early April, and I feel an Atlas-level weight off my shoulders. And the $2400 that we just saved? Not too shabby!

Although my husband and I cancelled cable TV, we still have Comcast internet. They sent us a free streaming converter box, which has a nice intuitive interface. I would've been content to continue using the frustrating first generation Apple TV that someone gave us a few years ago. But it's nice to not swear under my breath every time I awkwardly scroll through streaming options.

My husband and son both celebrated birthdays last week. Our normal birthday routine is to stage a Birthday Day of Adventures that relies on the ability to hop from location to location, and would be the current definition of an Infection Adventure Day™. Instead, I arranged for nice treats that put neither in danger. I'll write up a blog post in a few days with more details.

I didn't buy a Lear Jet or a vulgar gold-plated apartment in the sky.
Now your turn. What frugal things have you been up to?
Katy Wolk-Stanley    
"Use it up, wear it out, make it do or do without."
Click HERE to follow The Non-Consumer Advocate on Twitter.
Click HERE to follow The Non-Consumer Advocate on Instagram.
Click HERE to join The Non-Consumer Advocate Facebook group.
Click HERE to follow The Non-Consumer Advocate on Pinterest.
Disclosure: This blog post includes affiliate links, which may earn you a discount, as well as a small commission for me. This costs nothing extra to you.