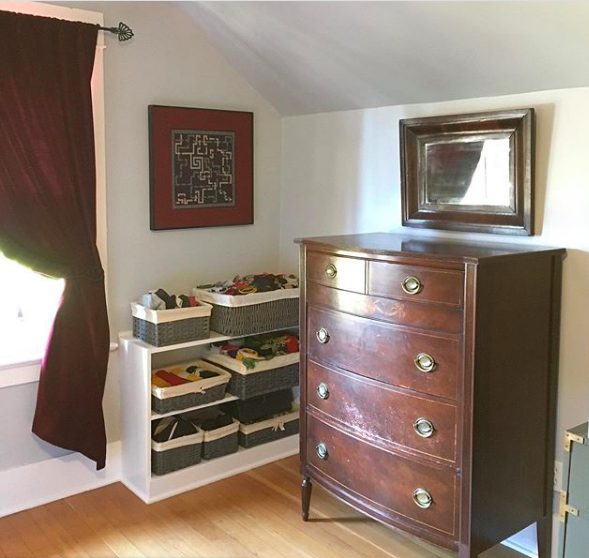 My husband and I have been busy finishing repairs and then painting our bedroom over the past few weeks. This is far from a "Frugal Thing" as the project involved more than just a "lick of paint." (Any Wallace and Gromit fans out there?) Anyway, we finally slept in our bedroom last night for the first time in two months and readers, it was glorious.

I guess we did save a tremendous amount of money by not hiring out any of the jobs which include electrical wiring, plaster repair and painting. So I change my mind, this was absolutely a "Frugal Thing!" Also, beyond a new sets of sheets, (which were actually a generous gift from my mother) I didn't use redoing the bedroom as rationalization to buy any stuff whatsoever. It's actually the complete opposite as I used it as an excuse to get rid of stuff.

I'll be writing up a full "before and after" blog post in the near future, but for now let me just share that any project that takes a room from "hot dog" to "dove grey" is a guaranteed winner. Please enjoy the above teaser photo!

I went thrifting to a couple different Goodwills with my college friend Maura and ended up picking up a random assortment of items which quickly sold on eBay. Like this Bushnell speed gun and this 1999 Michael Graves for Target candlestick. Seriously, so very random!

People in Oregon and Washington are mostly really good about wearing masks and social distancing, so I've felt safe the few times that I've hit up my local Goodwills. We always drive our own vehicles and then keep our distance while hanging out. It's a watered down form of socializing, but necessary and responsible in the Covid era.

I gave away a number of items through my Buy Nothing Group including four standard wine glasses, (I'd thrifted four artisan made glasses which were the same as a long-broken pair that my husband and I received as a wedding gift in nineteen-ought-four) a cute leather purse I never wore and then an unused kitchen knife that no one here remembers buying.

My husband and I continue to hit up Su Casa Tacqueria for $1 takeout tacos on Tuesdays, I gave my mother a new-in-package (but thrifted) hummingbird feeder for her birthday, I sold two more pairs of my husband's old prescription glasses on eBay, I listened to a couple more audiobooks through the library's free Libby app, (Island of the Blue Dolphins and Evvie Drake Starts Over) I ran into the Lloyd Center Dollar Tree store to stock up on shampoo and conditioner as it's practically next door to the Goodwill where Maura and I were thrifting and lastly I grabbed two huge terra cotta planters that a neighbor put out for free.

I didn't buy a Lear Jet or a super disease spreading, debt ridden or vulgar gold-plated apartment in the sky.
Katy Wolk-Stanley    
"Use it up, wear it out, make it do or do without."
Click HERE to follow The Non-Consumer Advocate on Twitter.
Click HERE to follow The Non-Consumer Advocate on Instagram.
Click HERE to join The Non-Consumer Advocate Facebook group.
Click HERE to follow The Non-Consumer Advocate on Pinterest.
Disclosure: This blog post includes affiliate links, which may earn you a discount, as well as a small commission for me. This costs nothing extra to you.