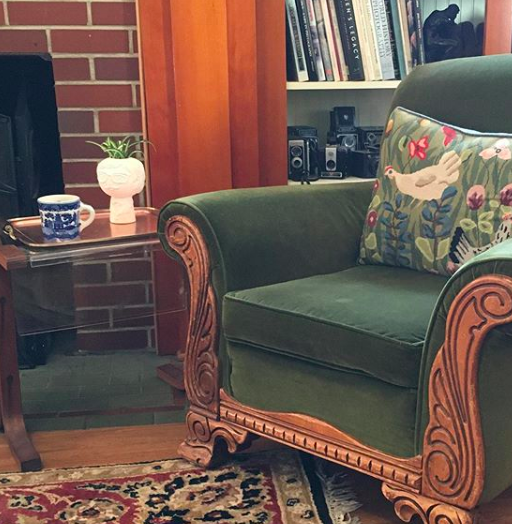 I sold a large number of items, thanks in part to cross posting to Facebook Marketplace and taking advantage of a current promotion where Facebook eats the cost of shipping for your first ten sales. However, I believe this offer is just for people who've proven their responsibility with a record of selling and receiving feedback from previous buyers.

I'd been hesitant to use Facebook Marketplace for non-local sales as it seemed like an extra layer of annoyance, but I watched a YouTube seller's video where the guy talked about increased Marketplace sales which he attributed to professional level photos, which set him apart from other sellers. My eBay photos are decent, (far from professional) so I thought I'd throw a couple items up on Marketplace to test this theory. I quickly made three sales on things that had been collecting dust, so I'll continue to cross post even after I've burned through my free shippings.

My husband and I drove to Costco to get our printer ink cartridges refilled and then sat in the car listening to the latest Office Ladies podcast while waiting the hour and a half for them to be ready. Sure, we killed a bit of time picking up exciting items such as cat food and litter, yogurt and honey, but there was still an interminable amount of leftover time. Sadly, we called this a "date night."

I bought a vintage copper and brass Goodwill tray and treated it to a beauty makeover. It really was in deeply rough condition, so I polished it up using my trusty can of powdered Barkeeper's Friend. (This miracle powder is sent from the gods!) The bright coppery tray now sits on a side table that oddly requires a extra horizontal surface and is now the perfect spot for a steaming cup of hot tea.

Click HERE to see the before-and-after photos!

I gave away a wooden bench through my local Buy Nothing group, I grabbed a nice Carhartt shirt from a neighbor's free box, I'm listening to the audiobook of Sophie Kinsella's Love Your Life through the free Libby app, I sold two huge terra cotta flowerpots that someone had put out for free, (which then inspired me to sell a couple extras of my own) I grabbed a new looking toaster from a different neighbor's free pile, I treated myself to a lightly used pair of LL Bean shearling slippers on eBay, I brought home and washed an abandoned knit cap, I mended a small hole in a wool sweater which then quickly sold on eBay, I swung by the Franz Bakery outlet and scored my husband's favorite organic 70-jillion grain bread for a buck a loaf, I was gifted a guitar stand for my son through the Buy Nothing group and I continue to go an extended period without a haircut. I swear my hair will reach my toes by the time this pandemic ends.

I didn't buy a Lear Jet or barricade myself in a gold plated apartment in the sky.
Katy Wolk-Stanley    
"Use it up, wear it out, make it do or do without."
Click HERE to follow The Non-Consumer Advocate on Twitter.
Click HERE to follow The Non-Consumer Advocate on Instagram.
Click HERE to join The Non-Consumer Advocate Facebook group.
Click HERE to follow The Non-Consumer Advocate on Pinterest.
Disclosure: This blog post includes affiliate links, which may earn you a discount, as well as a small commission for me. This costs nothing extra to you.