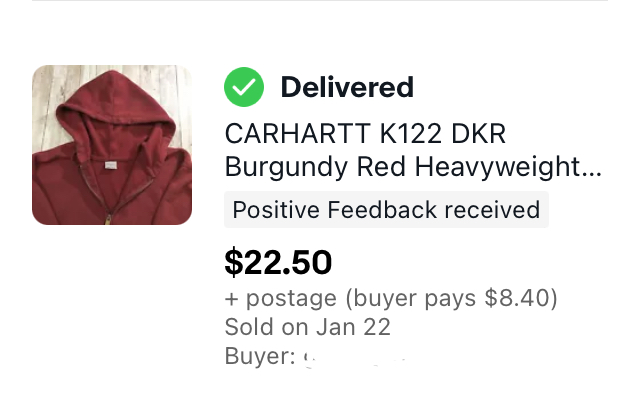 I sold a steady stream of things, my favorite of which were free items dragged home from other people's curbsides and "free boxes."

• A sweet antique cupboard that I sold through Facebook Marketplace for $100.

• A slightly ratty and entirely soggy Carhartt sweatshirt that a neighbor had dumped into a "free box." Laundered and then sold for $22.50 on eBay.

• A set of what I termed "industrial" drawer pulls that I removed from an otherwise worthless curb desk. Sold for $15 on eBay

• A remote control that I grabbed from someone else's "free box." Sold for $7 on eBay.

Of course I sold other things, including a $100 Arcteryx jacket and a $50 Michael Graves tea kettle, but I wanted to shine a light on how it's possible to make a bit of money with zero cost of goods.

I continue to cook all meals from scratch, with a weekly exception for "Taco Tuesday." ($1 tacos from a local Mexican food cart!) I do try to vary the menu, and the past week has seen such meals as:

• Meatloaf with mashed potatoes and peas. This meal incorporated two frozen pieces of gluten-free bread, plus multiple individual packets of ketchup, hot sauce, red pepper flakes, barbecue sauce and A-1 sauce. I normally make a ketchup/brown sugar paste for the top, but ran out of ketchup which is how this meatloaf happened to use A-1 for the topping. This was delicious and I will never go back!

• Enchiladas filled with rice, scratch cooked black beans, cheese, onion, canned jalapeño, frozen corn and a handful of leftover green salsa containers from previous "Taco Tuesdays."

• Chicken soup and potato-bacon soup.

• Reuben sandwiches. This was prompted by the purchase of a $1 loaf of marble rye bread from the Franz bakery outlet.

I repaired a pair of Birkenstock clogs as the upper had pulled apart from the sole. I'd been meaning to check off this task since the fall, so I gave myself a huge pat on the back even though the job itself took no more than five minutes. All it took was some clear Gorilla glue and a couple of clamps. Then I rode that pat-on-the-back momentum to repair some slippers and a shaving brush.

My friend Lise dropped off a box of bubble wrap, I gifted a couple of items through my Buy Nothing Group, I started rooting another batch of spider plant babies, I boiled up a small batch of cranberry sauce from a 50¢ bag of cranberries, I went for a dental cleaning and then batched errands as I was across town, (such as stopping at Trader Joe's to pick up their nothing-beats-it Mediterranean hummus and 19¢ bananas) and I started a new audiobook through the free Libby app.

I didn't buy a Lear Jet.
Katy Wolk-Stanley    
"Use it up, wear it out, make it do or do without."
Click HERE to follow The Non-Consumer Advocate on Twitter.
Click HERE to follow The Non-Consumer Advocate on Instagram.
Click HERE to join The Non-Consumer Advocate Facebook group.
Click HERE to follow The Non-Consumer Advocate on Pinterest.
Disclosure: This blog post includes eBay affiliate links, which may earn you a discount, as well as a small commission for me. This costs nothing extra to you.