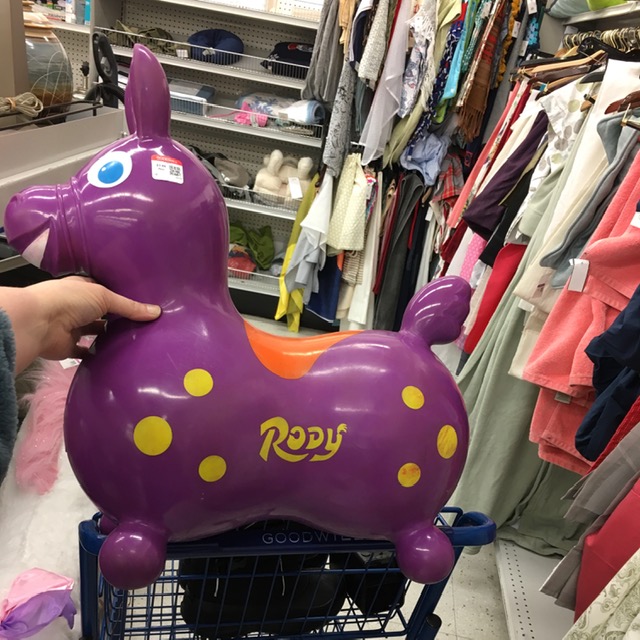 I didn't sell much on eBay, then again I didn't thrift much last week. I did try to stop at the N.E. Broadway location after hitting the Franz Bakery outlet, (high end $1 loaves and bagels!) but there was a neighborhood blackout and all the businesses were dark.

• I parted out a marble chess set, and sold the pieces for $40 and then the board for an additional $15. Not too shabby considering that the set was $4.99!

• I sold a $3.99 inflatable "Rody" horse for $25. I tried to sell it locally, but had no luck and then sold it overnight on eBay.

• I sold a few more of my daughter's $5 Shonen Jump magazines, which have been slow but steady sellers.

I signed up to get six free months of Discovery Plus,which includes HGTV, Discovery, History, The Food Channel, Lifetime, Animal Planet, OWN, TLC, plus a bunch of other channels. I've been enjoying Alaska: The Last Frontier, which is surprisingly addictive for this indoorsy city gal.

This was an amazing tip, especially since it's the commercial-free version. I made sure put a reminder in my iCal to cancel it on August 1st before it switches over to a paid subscription. Thank you, Jill!

I built a nice fire in the fireplace using wood that I'd gathered after a neighbor's trees were cut down last summer. These were long burning logs, so two lasted through the entire evening. I have a couple dozen more logs, so we might be enjoying more frequent fires.

We've been snacking on bulk purchased air-popped popcorn, I drove my son through McDonald's a couple times for free McNuggets after the local NBA team scored more than 100 points, I redeemed Kroger coupons for free pasta sauce and cheap eggs, my husband brought an armload of bubble wrap home from work, I glued a broken shaving brush back together, my husband sharpened my good kitchen knife, I took plastic bags to the grocery store recycling bin, (I used to give them to a friend for dog poop bags, but her pup sadly passed away) I gave away a couple things through my Buy Nothing group and I pretty went nowhere and did nothing.

I didn't buy a Lear Jet.
Katy Wolk-Stanley    
"Use it up, wear it out, make it do or do without."
Click HERE to follow The Non-Consumer Advocate on Twitter.
Click HERE to follow The Non-Consumer Advocate on Instagram.
Click HERE to join The Non-Consumer Advocate Facebook group.
Click HERE to follow The Non-Consumer Advocate on Pinterest.
Disclosure: This blog post includes eBay affiliate links, which may earn you a discount, as well as a small commission for me. This costs nothing extra to you.