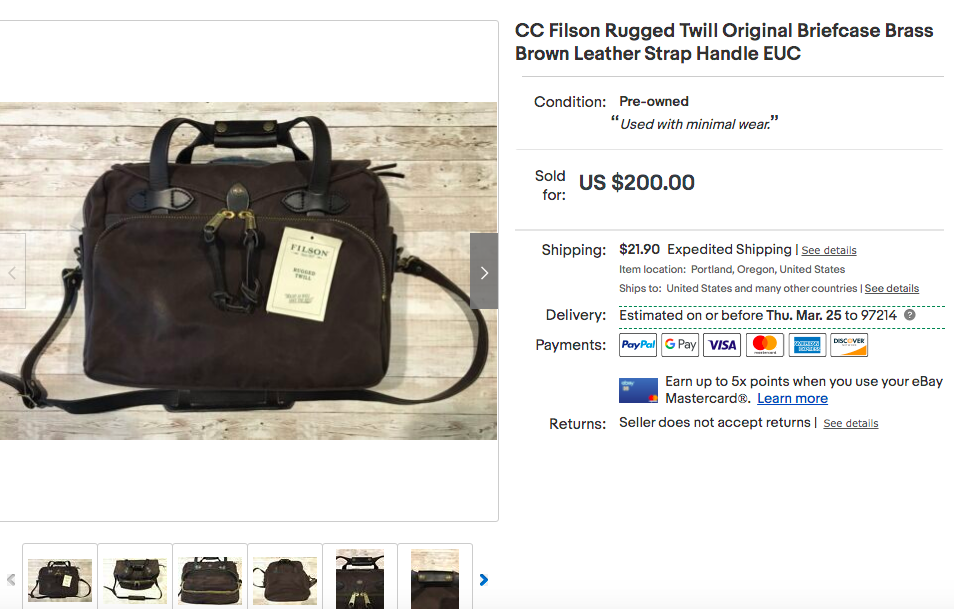 My son and I hit one of my favorite Goodwills on N.E. Broadway and hit pay dirt, as someone had just donated:

• An entire set of stainless steel Calphalon pots and pans.
• A Filson waxed twill briefcase, which normally retails for $325!

I hadn't been aware of the Filson brand, but the quality of the bag stood out with a capital "Q." Gorgeous leather accents, solid brass hardware and I knew there's was no way it came from Target. I pulled up my eBay app to check "Completed Items" and knew to throw that bad boy into my cart.

I listed everything on eBay and began making sales in under 24 hours. As you can see, my $12.99 bag was a worthy gamble.

My kids had been asking for meatloaf, which can be a frugal meal, unless yours needs to be gluten free. Luckily I had a loaf of bakery outlet gluten-free blueberry bread languishing in the freezer. Perhaps not the most obvious choice, but I picked out the blueberries and counted on there being enough strong flavors to hide the "notes of blueberry."

I love, love, love when I'm able to incorporate bits and bobs of fridge/freezer contents into a recipe, and meatloaf is the perfect opportunity to flex this muscle. Leftover "taco Tuesday" hot sauces, fast food packets and the last of some spicy pickled veggies all found their way into the meatloaves, (yes, plural — meatloaf is all about the leftovers!) which served well to hide any lingering blueberry flavor.

My aloe vera plant fell off its perch on the mantle, but I took it as an opportunity to split the plant into two pots. This plant was a curb find from at least ten years ago and it was high time that I dealt with it crowing the pot. I guess I have a cat to thank?

People continue to put books into my Little Free Library, I was gifted a scrappy Pendleton wool blanket from my Buy Nothing group, I enjoyed a couple of front porch visits with friends, I thrifted a case for my iPhone 6 and I've held off from buying anything beyond perishables as my fridge and pantry are overly full of miscellaneous stuff.

I didn't buy a Lear Jet.
Katy Wolk-Stanley    
"Use it up, wear it out, make it do or do without."
Click HERE to follow The Non-Consumer Advocate on Twitter.
Click HERE to follow The Non-Consumer Advocate on Instagram.
Click HERE to join The Non-Consumer Advocate Facebook group.
Click HERE to follow The Non-Consumer Advocate on Pinterest.
Disclosure: This blog post includes eBay affiliate links, which may earn you a discount, as well as a small commission for me. This costs nothing extra to you.