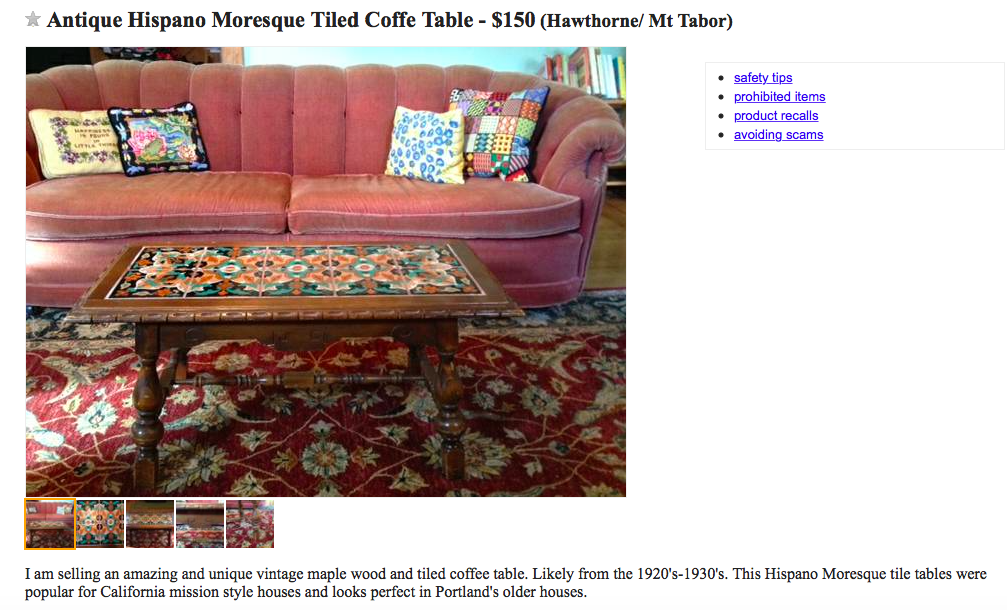 I spent a few hours over at my mother's house yesterday helping her go through some things at the back of her kitchen, which also serves as an office space. We were easily able to consolidate and declutter, and the time went by quickly as I mercilessly teased my mother about her massive numbers of binder clips of every shape, size and pattern. (The tiny ones are so cute!) An antique tiled coffee table was under the desk, and when I asked her about it, she told me to take it for resale. I brought it home and quickly put together a Craigslist post, which I shared on The Non-Consumer Advocate Facebook group. A savvy reader quickly identified it as Hispano Moresque style, which helped me to identify the era, which makes it from the late 1920's to early 1930's. I haven't received any offers on it yet, but when I do I'll stash the money in yes . . . my sons' college fund. (I'm 6.2% tempted to keep the table, but it's a bit too pattern heavy for a room that already has a lot of pattern.)
My mother also sent me home with a large glass canister and an untouched iPhone4 accessories set. Hooray for an extra charger and set of earbuds! The jar's rubber gasket was completely dried out and brittle, but my friend Lise says she has an extra one to share.
I stopped at The Grocery Outlet yesterday after dropping my son at school. Although it was only 8:30 A.M., the parking lot was full and the store was hopping. I was a bit confused until I realized that it was Senior Day, and they were giving out Bingo cards to win store gift cards. I didn't take a card, but I did win at finding some great deals such as big bags of 69¢ onions, 99¢ tomatoes, and 99¢ organic bananas. I also bought more 8/$1 schwanky Müller brand yogurts and pretty much everything I need for my sons' Easter baskets. (Lindt chocolate rabbits, Cadbury creme eggs and Peeps.) I still need to buy unshelled peanuts in place of nasty plastic Easter grass, and jelly beans for the plastic eggs.
 I was able to make 14 jars of jam from two large containers of Costco strawberries. And when I went to Fred Meyer to buy the pectin, it was on sale for 80¢ down from $1.99. Since I was making freezer jam, there was no boiling the filled jars and buying of brand new lids. And I got to use whatever jars I had on hand, including this wee lassie. (Shh . . . she's napping.)
My husband and younger son are going to a Portland Timbers soccer game, so I'm making sure to have an early dinner planned out so they won't be tempted to get takeout. Tonight's dinner will be a chicken noodle soup, using the leftover bones from last night's dinner, plus a couple of added drumsticks from the freezer. It's all in the crock pot for now, which means I can come and go from the house without worrying about the risk of leaving a simmering pot on the stove.
Now your turn. What frugal things have you been up to?
Katy Wolk-Stanley
"Use it up, wear it out, make it do or do without."