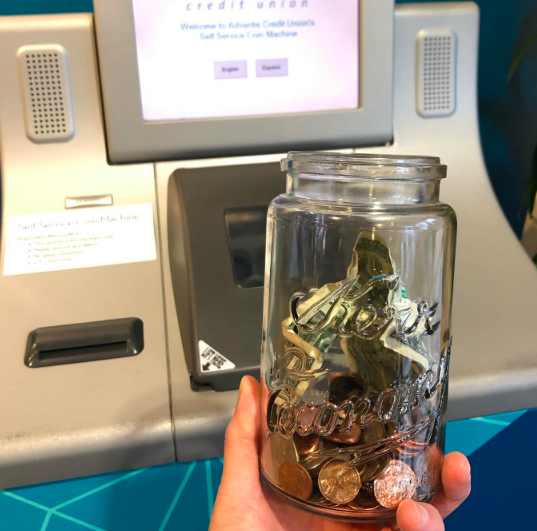 I schlepped my 2021 Found Change Challenge jar to my credit union's coin counting machine to discover that I'd gathered a mere $11.91 in dropped money over the course of the year. (Even though I'd found two one-dollar bills!) This shouldn't have surprise me though, as I was serious about minimizing outings last year. Being a homebody doesn't exactly open up opportunities for found money.

I really miss the before times.

I read some free library books:

I'm currently halfway through listening to the Nobel Prize winning Flights, by Olga Tokarczuk, but am struggling as it doesn't have a traditional plot structure, and my brain wants to make connections which don't exist. I think I just need to listen in bigger chunks to bring it all together.

I organized an overstuffed dresser drawer that holds my husband's and my pajama bottoms, shorts, track suit bottoms and sweat pants. I was able to identify maybe five garments that hadn't been worn in ages to donate, but most importantly I rediscovered a cute pair of sweats that I'd forgotten about.

Like shopping, but for lazy cheap gals such as myself.

I picked up a vintage glass lighting globe for $4.99 which I quickly sold to a vintage shop for $20, a childhood friend dropped off a bag of bubble wrap for me to reuse, (thanks, Deborah!) I've created a million-and-one homemade meals that keep us on budget, I've gotten better about properly organized grocery shopping trips that deter popping into the store for "just one thing," but inevitably leads to impulse purchases, I used a coupon for a free pint of Häagen Daz ice cream as well as a $3.99 Red Baron pizza rebate that earned $4.49 through Ibotta, I returned a Goodwill rug I'd bought to resell but later realized had condition issues and I treated myself to a decent size $4.99 jade plant from The Grocery Outlet, which I transplanted into a cute garbage picked crock.

I didn't go on an ego driven space jaunt with my fellow billionaires.
Katy Wolk-Stanley    
"Use it up, wear it out, make it do or do without."