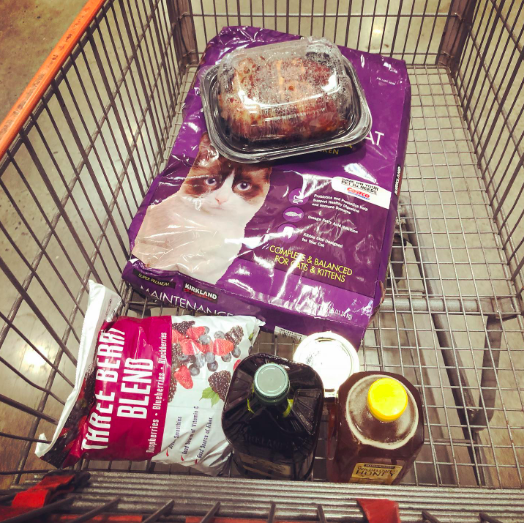 Our down comforter was no longer providing the same warmth it once had, so I knew it was time to bite the bullet and buy a "new" one. (Shivering isn't a good look for me.) I started my research with the NY Times' Wirecutter website to see what they recommended and saw that the Costco one ranked high, so I clicked around on eBay until I found a "new without tags" version for $74.95 instead of $220. I also bought a new-in-package Pottery Barn duvet cover for $76.99, which seems expensive until you realize that it was probably around $200 to begin with.

People often assume that a decision to buy used is the lesser choice in terms of comfort and dare I say it — luxury. However, there's almost nothing that can't be found on the second-hand market. My purchases support independent sellers instead of morally corrupt companies that bypass environmental accountability and worker rights in the name of shareholder profits.

If I can avoid triggering the manufacture of a brand new item, that's always going to be my first choice.

I awkwardly turned down a bid to prune our backyard maple tree as it came in at $3250. (Awkward, as we're socially connected to the arborist.) I did receive a bid from someone else last summer that was much lower, but it somehow got buried in my inbox and I'm not sure the bid still stands.

I gotta say that home ownership can be a real pain in the tuchus. Yes, we're building equity, but it's only realized if we sell the house or borrow against it. Sometimes owning a home is just a series of boring expenses.

I went to Costco and only purchased items from my list. (Cat food, olive oil, chicken bullion, honey, frozen berries and a roasted chicken.) This may seem like a non-impressive "frugal thing," but stores count on customers finding off-list items to bolster their profits. It's not evil, it's just the Science of Shopping. Whether it's food purchases prompted by a tasty sample or the physical setup of the space, your impulse purchases are far from random.

I'm just as swayed by store displays and fun new products as anyone else, so I consider it a win any time I'm able to grocery shop without sprinkling my cart with impulse items.

I received a $20 refund from my doctor's office, I started listening to Anatomy: A Love Story by Dana Schwartz (my friend's future daughter in law!) I sold a thrifted Calphalon frying pan through Facebook Marketplace, I gave away a cluttery antique vase through my Buy Nothing group, I returned a bag of unused miscellaneous Home Depot stuff, I picked up a $13 headlight bulb from an auto supply store for my husband to install on our Prius, (this'll save us $22 over taking it to Jiffy Lube) my husband's friend gave us a big bag of books for our Little Free Library, my friend Lise planted a native plant in a corner of my backyard and I donated two bags of clothing and random items to Goodwill.

I didn't go on an ego driven space jaunt with my fellow billionaires.
Katy Wolk-Stanley    
"Use it up, wear it out, make it do or do without."