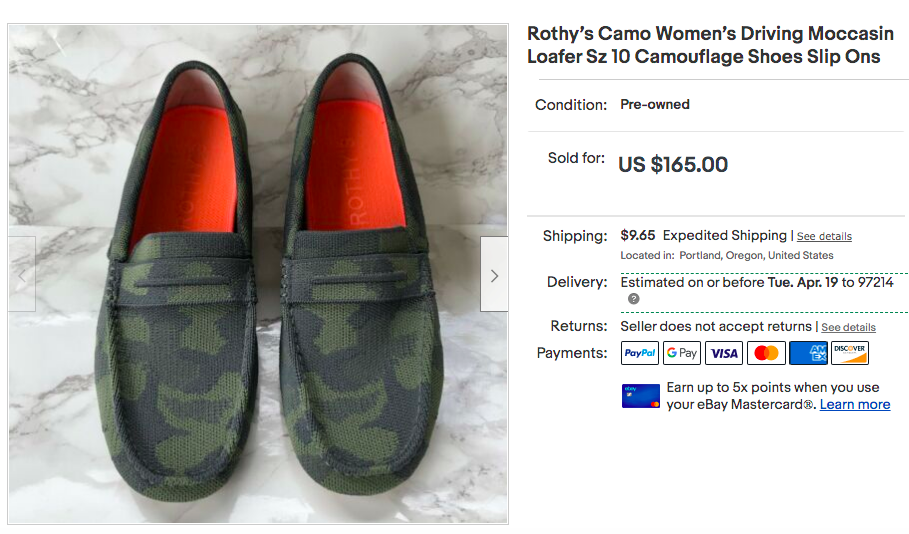 I sold a number of things, including:

• A pair of scruffy Danner boots that I cleaned up and polished. Bought for $7.99, sold for $120.

• A cute midcentury style folding chair. Bought for $6.99, sold locally for $40.

• A handful of antique marbles. Bought for maybe $4.99, sold for $30. I also sold another marble from this lot for $40 and still have one more to sell.

• A wicker coffee table. Bought for $9.99, sold locally for $40

My husband went on a free three-day weekend to Sun River, Oregon, with four of his Portland Timbers dude friends. Sun River describes itself as a "3,300 acre resort community" and would normally be out of our budget, so this was a real treat. They stayed in a big-ass rental house and apparently much soccer was watched and many brew pubs were supported.

Lucky guy. Note to self . . . make wealthier friends.

I continue to shop at the Everyday Deal$ grocery liquidator, which means that I'm enjoying 79¢ organic greens and 2/$1 16-ounce Ellenos yogurts, (normally $6-$7 apiece!) I refilled my Soda Stream canisters for $7.50 apiece at a local paintball store, my husband replaced the ignitor and burner on our stove, I picked up a couple two-pound loaves of Tillamook white cheddar for $6 apiece and I started physical therapy for plantar fasciitis at an inconveniently located clinic, but . . . have been pairing it with their closest Goodwill which makes the appointments almost something to look forward to.

I didn't deplete my billions of dollars buying up Twitter stock,
Katy Wolk-Stanley    
"Use it up, wear it out, make it do or do without."
Click HERE to follow The Non-Consumer Advocate on Twitter.
Click HERE to follow The Non-Consumer Advocate on Instagram.
Click HERE to join The Non-Consumer Advocate Facebook group.
Click HERE to follow The Non-Consumer Advocate on Pinterest.
Disclosure: This blog post includes eBay affiliate links, which earns a small commission for me. This costs nothing extra to you.