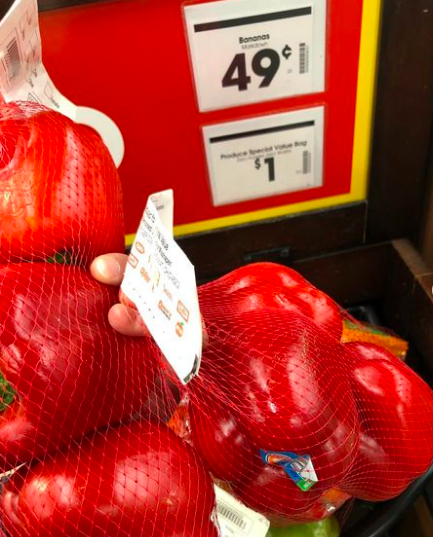 I sold a number of things, including:

• A handmade Pendleton wool vest that I bought for $9.99 and sold for $70.

• A Magnalite stock pot that I bought for $6.99 and sold for $120.

• An IKEA swiveling "Lomsk" egg chair that I bought for $7.99 and sold locally for $100.

• An American Girl doll sweater. I bought a doll with clothing for $4.99 and then sold just her "Kirsten" sweater for $25. I'll sell the doll separately.

• A Canadiens hockey hoodie that I bought for $7.99 and sold to someone in Australia for $40.

• A bag of miscellaneous Brio train track pieces that I picked up at the Goodwill bins and sold locally for $25.

• A pair of Polish pottery mugs that I sold locally for $40. I've no record of how much I paid for them. Polish pottery used to sell like hotcakes, but the demand for it seems to have died down.

• A Wii Fit board and game that I paid $9.99 for and sold locally for $30. I bought this waaaaay back at the beginning of the pandemic when everyone was clamoring to exercise at home. I was deliriously happy to get it out of my house!

I accepted an invitation to a Willamette Valley winery with a college friend who recently moved to the Portland area. The invite was a last minute affair and my gut reaction was an immediate "nope!" as wine makes me feel both groggy and headache-y. But then I reminded myself that it's actually enjoyable to spend time with a friend and accepted her kind invitation.

I ended up having an extremely enjoyable day at the winery, even though it turned out that they didn't serve food, which brought my share of the bill down to $0.00. However it was still a very scenic and enjoyable afternoon. A long drive for sure, but perfect for catching up with an old friend.

Our cheapo hand held shower head has been spurting water in random directions lately, so I did a bit of research and chose a highly recommended replacement. We purchased this last one at least fifteen years ago to accommodate a house guest who'd just had knee surgery, and it was much more a "grab whatever from the hardware store" than a thoughtfully purchased item.

Normally, my husband and I would at least attempt to repair a broken household item, but this low quality shower head was definitely not manufactured to stand the test of time.

I do still buy second hand whenever possible, and thankfully found a used version, which was described as simply having "damaged packaging."

I snagged a pair of metal organizing cubes from a free pile, (I'll use them to create a modicum of order in my coat closet) I listened to the audiobook of Seven Days in June through the library's free Libby app, I got my free Covid-19 booster shot, our two maple trees lost multiple branches from a freak snow storm and my husband and I cut up the branches by ourselves, I scored six big red peppers for $2 and chopped them for the freezer, I gave away a number of items (an assortment of tea bags, a teapot and some macaroni noodles) through my local Buy Nothing Group, my friend Lise and I brought our plastics to be recycled through a free event on Earth Day, I thrifted a 99¢ lazy Susan which prompted a full reorganization of our medicine cabinet, I brought my own cup of tea to my neighbor's house for a friend date and I clipped blooming lilacs from my mother's house for a large bouquet of flowers.

I didn't spend 44 billion dollars to buy Twitter.
Katy Wolk-Stanley    
"Use it up, wear it out, make it do or do without."
Click HERE to follow The Non-Consumer Advocate on Instagram.
Click HERE to join The Non-Consumer Advocate Facebook group.
Click HERE to follow The Non-Consumer Advocate on Pinterest.
I deactivated my Twitter, as I don't wish to be part of Elon Musk's empire.
Disclosure: This blog post includes eBay affiliate links, which earns a small commission for me. This costs nothing extra to you.