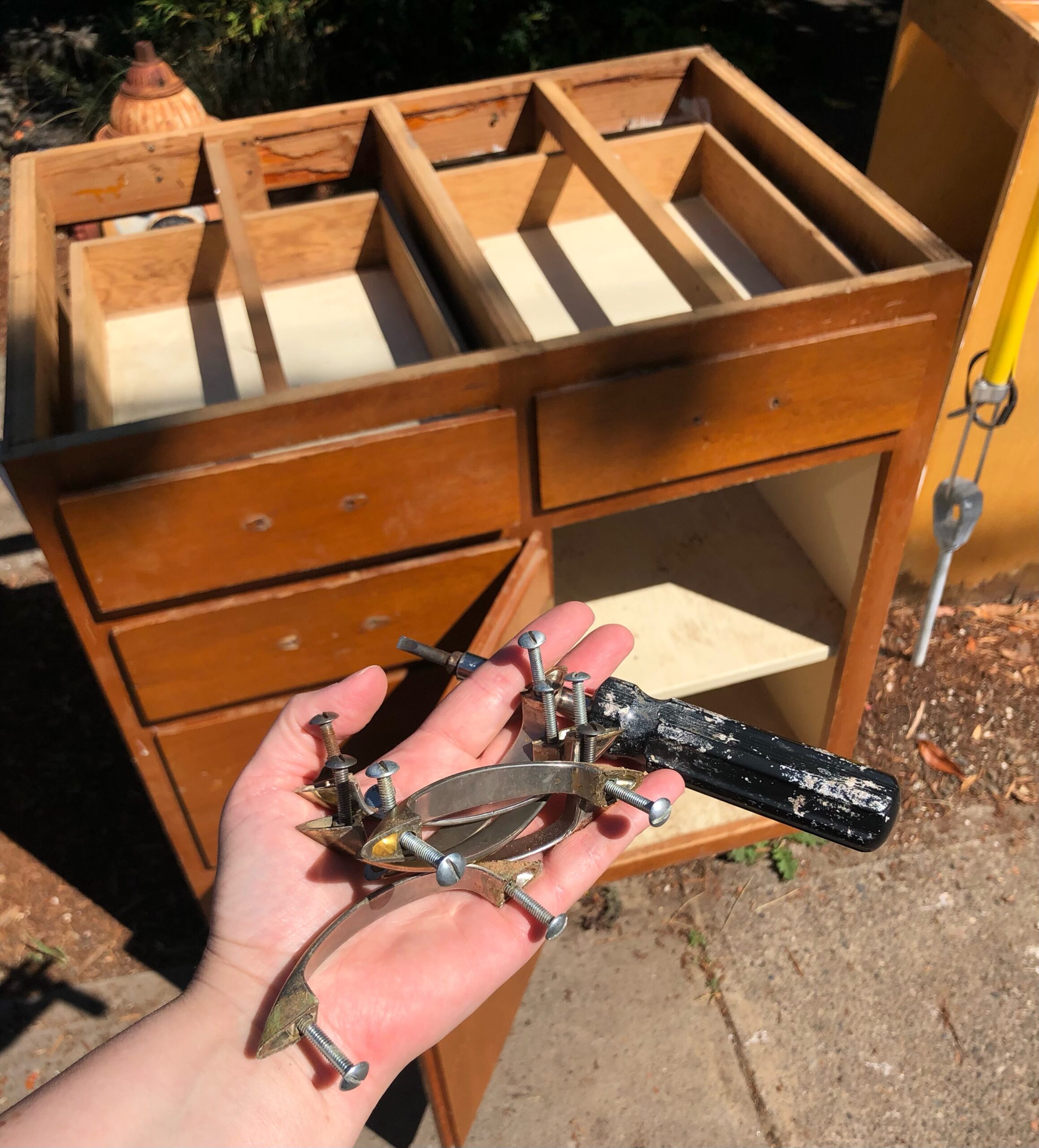 I drove to my trusty Everyday Deals grocery liquidator and scored big time. The store is a bit like a thrift store, as the inventory is pretty random, although it always seems to have cheap salad mixes. I brought home:

• Two bagged salad kits for $1.29 apiece.
• Two Persian cucumbers for 50¢ apiece.
• A huuuuge bag of spinach for $2. Like seriously huge, think pillow case sized! So big that split it with my friend Lise, who luckily doesn't blink at my extreme frugality.
• An entire flat of strawberries for $6. <– my favorite deal!

A neighbor set out a couple of rickety old kitchen cabinets from a remodel, and I drove past them for almost a week before noticing that the vintage chrome drawer pulls were the same as the ones in my kitchen. I gave it another day or two before walking over with a screwdriver and removed each and every one of them. (Six, I removed six.) I promptly replaced my broken drawer pull and then stashed the other five as back ups.

My son continues to borrow my Prius for his Monday through Friday work commute. We make this work as my husband can mostly ride his bike and it's not the worst thing in the world for me to be occasionally housebound. Used car prices are through the roof right now and this arrangement should allow him to save enough money for a late model car instead of a total junker.

I exchanged a completed Franz Bakery outlet punch card for five free loaves of bread, I 100% didn't feel like cooking dinner last night, but buckled up and made a batch of The Prudent Homemaker's rosemary white bean soup, (which also used up some accidentally overcooked navy beans!) I returned to my secret spot and picked another 4-1/2 pounds of wild blackberries, I filled my little free library with new books that my mother sourced from her Buy Nothing Group, I ordered a free Domino's pizza using points from previous purchases, which then prompted an offer for another free pizza as the delivery apparently took too long, my next door neighbor offered to let me put plastic bubble mailers in her Ridwell recycling box and I scored a free hose nozzle that somebody put out for free.

I didn't buy a Lear Jet, and instead borrowed one from Kylie Jenner.
Katy Wolk-Stanley    
"Use it up, wear it out, make it do or do without."