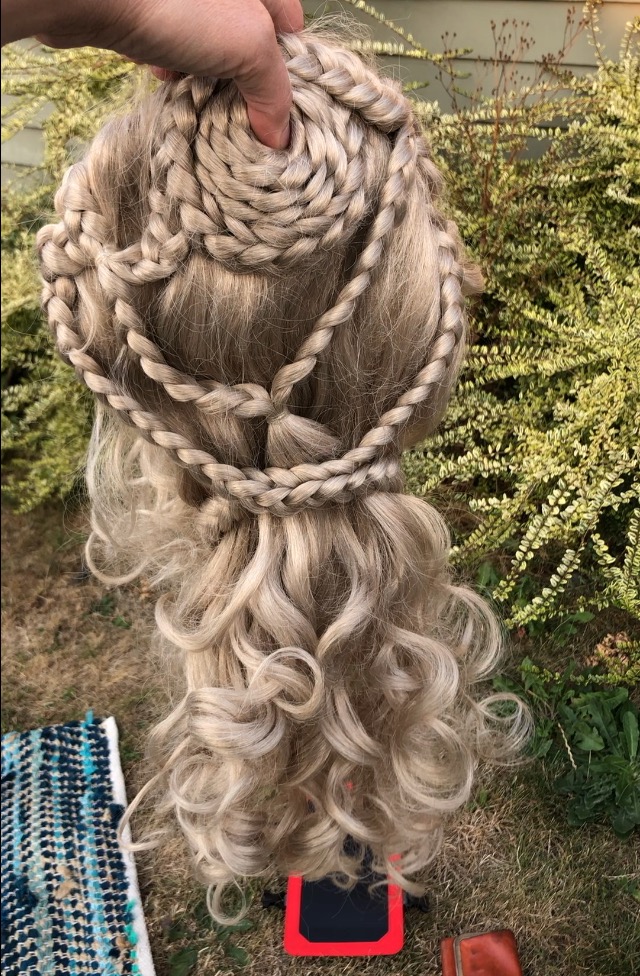 My husband and I used our local Buy Nothing Group to give away two outdoor chair cushions, a guitar shaped cake pan, a cardigan sweater and a full-on drum set that my husband had great plans for, but had unsurprisingly collected an impressive amount of basement dust.

We then scored a full-size bed frame that a neighbor offered through the group. I'd been passively keeping an eye out for a new bed frame as our son's had followed him when he moved out. (Also a Buy Nothing find!) We'd unceremoniously dumped a futon onto the floor as a stop gas measure, but that's simply not an acceptable option for aging house guests. Luckily the new bed frame is the style that doesn't require a box spring, so it'll support the futon without issue. For the very low price of $0.00.

I somehow erected a mental barrier to putting up new eBay listings. I'd built it up in my mind as difficult, even though I've been selling on eBay since 2005! Every day I'd write "List five items on eBay" on my to-do list and then accomplish everything except that task. I finally wised up and wrote "List one item on eBay" which narrowed it down enough so I could get over myself.

So I listed a single item on eBay. Something both easy to photograph and simple to describe. And then two days later I assembled all the things I needed to list and got to work. There's a term in the reselling community called a "death pile," which is essentially all the stuff you've bought, but never list My death pile wasn't actually all that impressive, but the guilt clouded my brain. Things are starting to sell again, which is both a relief and the perfect motivator to continue listing.

My husband had a two day work class in Tacoma, Washington last week, which  we forced somehow blossomed into the perfect getaway. The hotel reservation was for Thursday and Friday, so we left Thursday morning and checked into our room and immediately drove up to Seattle where we enjoyed a somewhat crappy meal, (we'd eaten at this restaurant a number of years ago, but apparently they've taken a nose dive.) and then took the ferry to Bremerton and back.

The round-trip ferry tickets were just $9.25 apiece for the two hour trip, which was both the perfect length and price. Add in that our waiter had slipped me extra bags of oyster crackers and I even came prepared with snacks!

The rest of our trip was equally satisfying, as we were able to meet up with multiple Antioch College friends, (Hi, Lisa, Ed and Ben!)  as well as hit up multiple thrift stores, (Hi, Tacoma and Seattle Goodwills, American Cancer Society Discovery Shop and that one estate sale!) I do value getting out of my routine, or as I shared with my friend Lisa," It's just nice to look at something that's not my living room walls!"

My husband fixed a broken side rail on our daughter's bed, I was twice able to eat enough at the hotel breakfast buffet to skip lunch, I fed my friend's cat while she was out of town and she gifted me with tea and honey from her travels, I brought home three impressively sturdy takeout containers from one of our meals in Seattle, I scored a few things from a Seattle free pile, (the above Daenerys Targaryen wig, a cute pair of earrings and some Yakima rack component pieces) I returned two tubes of expensive sunscreen that took two weeks in transit, I went through my closet and identified a dozen or so pieces of never-wear-em clothing and donated them to Goodwill, I helped my mother shampoo a filthy rug and in return she fed my family some delicious barbecue takeout as a thank you, I took my sister's excellent advice and listened to Death at Wentwater Court through the free Libby app  and I took a Griswold Dutch oven that wasn't selling on Facebook Marketplace for $125 and listed it on eBay, where it sold overnight for $150!

I didn't buy a Lear Jet, and my ego-driven rocket ship didn't explode after liftoff.
Katy Wolk-Stanley    
"Use it up, wear it out, make it do or do without."