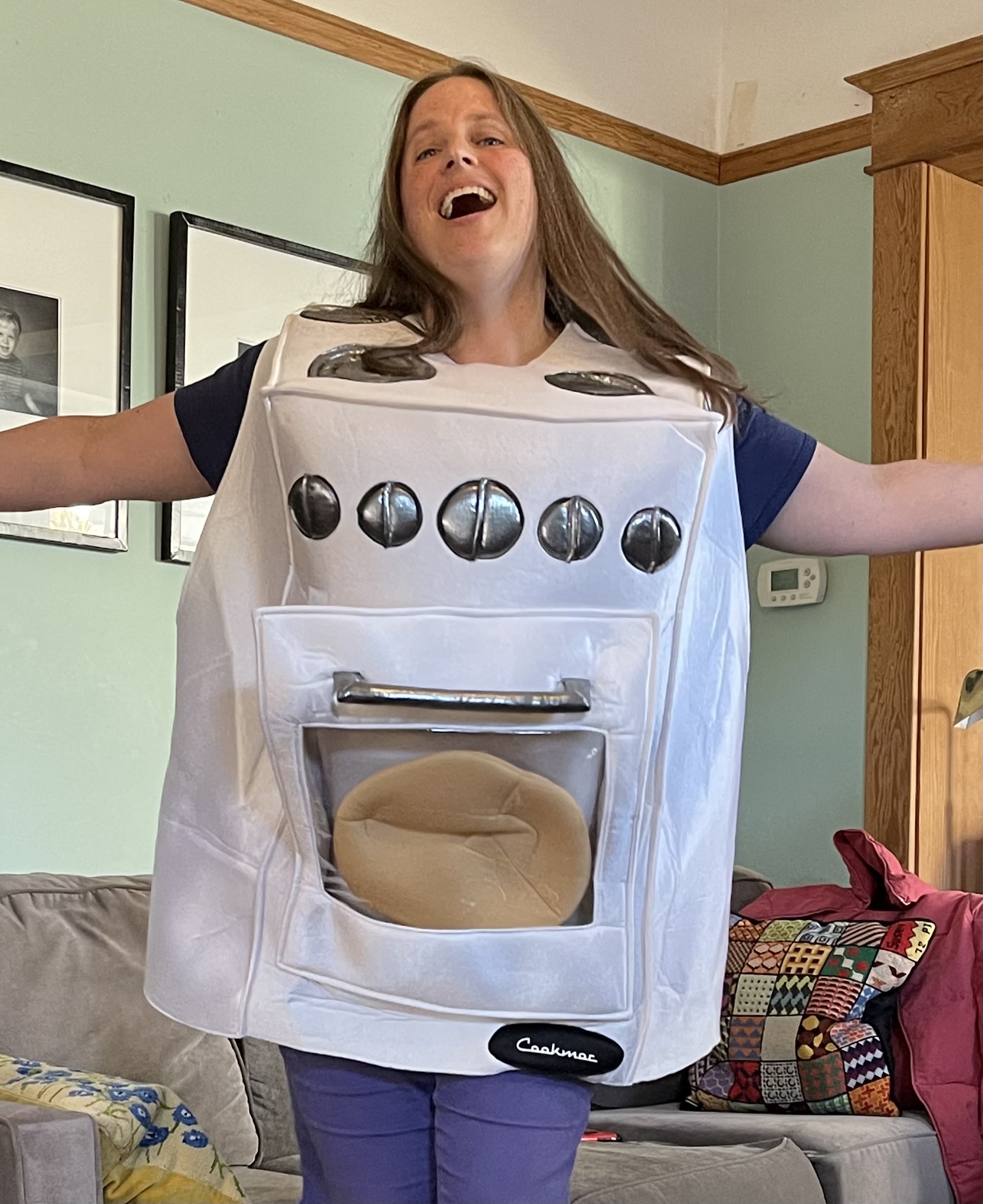 I sold a number of things through eBay and Facebook Marketplace.

• I thrifted a goofy "Bun in The Oven" maternity costume for $5 and sold it on eBay for $40. But not before wearing it around for a bit. Not sorry at all, it was delightfully comfortable!
• I thrifted a kid's Trek bicycle for $15 and sold it locally for $50.
• I thrifted an antique typewriter for $20 and sold it for $75.
• I thrifted a licensed Wizard of Oz Scarecrow costume for $4 and sold it locally for $30.
• I thrifted a Pottery Barn pumpkin costume for $3 and sold it on eBay for $35.
• I thrifted a set of Eddie Bauer flannel sheets for $7.50 and sold them on eBay for $35.

I took the two $1.99 glazed flowerpots that I picked up from a Tacoma, Washington estate sale and potted them with peace lilies. I knew I wanted to plant them with something for indoors the house as we're only a month or so out from frost, but I also didn't want to spend any money. I have a peace lilly on top of the piano that's grown quite large and this was the perfect opportunity to transplant some of it. I grew up with a greenhouse plus a lot of houseplants, so I wasn't worried about damaging the lilly, and confidently took a knife to separate out the roots. I now have two "new" peace lilies and all I paid was $3.98 for the pots.

My husband and I stopped into Costco to pick up a rotisserie chicken and gas up the car. This guy is a diehard coffee drinker and has very much not enjoyed whenever I've attempted to reign in our coffee expenses. Although, he does point out that he always brings his own coffee to work instead of driving through Starbucks.

Anyway . . . we were headed to the register when I noticed that the 2-1/2 pound bags of Starbucks beans were on sale ("instant rebate") for just $14.99, limit six per customer. So we bought six. After all, $6/lb is a screaming good deal for high end coffee.

I'm relieved to be at a point in my life where I can shell out an unexpected $89.94 and still pay my bills. I've certainly lived through times when I wouldn't have been able to take advantage of this sale price, and would've ended up paying more in the long run due to not having funds to cover the cost. The issues of poverty and food insecurity are part of the daily news cycle more than ever and my heart goes out to those in the midst of their struggle.

I glued my aged dish scrubber back together, I listened to the audiobook of Sea of Tranquility by Emily St. John through the free Libby app, I baked a batch of pumpkin spice muffins using the last of last year's pumpkin puree, (which was baked from a neighbor's uncut jack-o-lantern) I shared a plate of muffins with those neighbors, I hung multiple loads of laundry on my backyard clothesline, I grocery shopped at Winco with my friend Lise, which ticked off both "socialize" and "grocery shop" from my to-do list, my backyard hydrangeas are still blooming, so I'm assembling bouquets for friends and neighbors, (I planted them 24 years ago from starts my father propagated in his greenhouse) and I washed my Prius in the driveway instead of paying for a carwash.

I didn't buy a Lear Jet.
Katy Wolk-Stanley    
"Use it up, wear it out, make it do or do without."