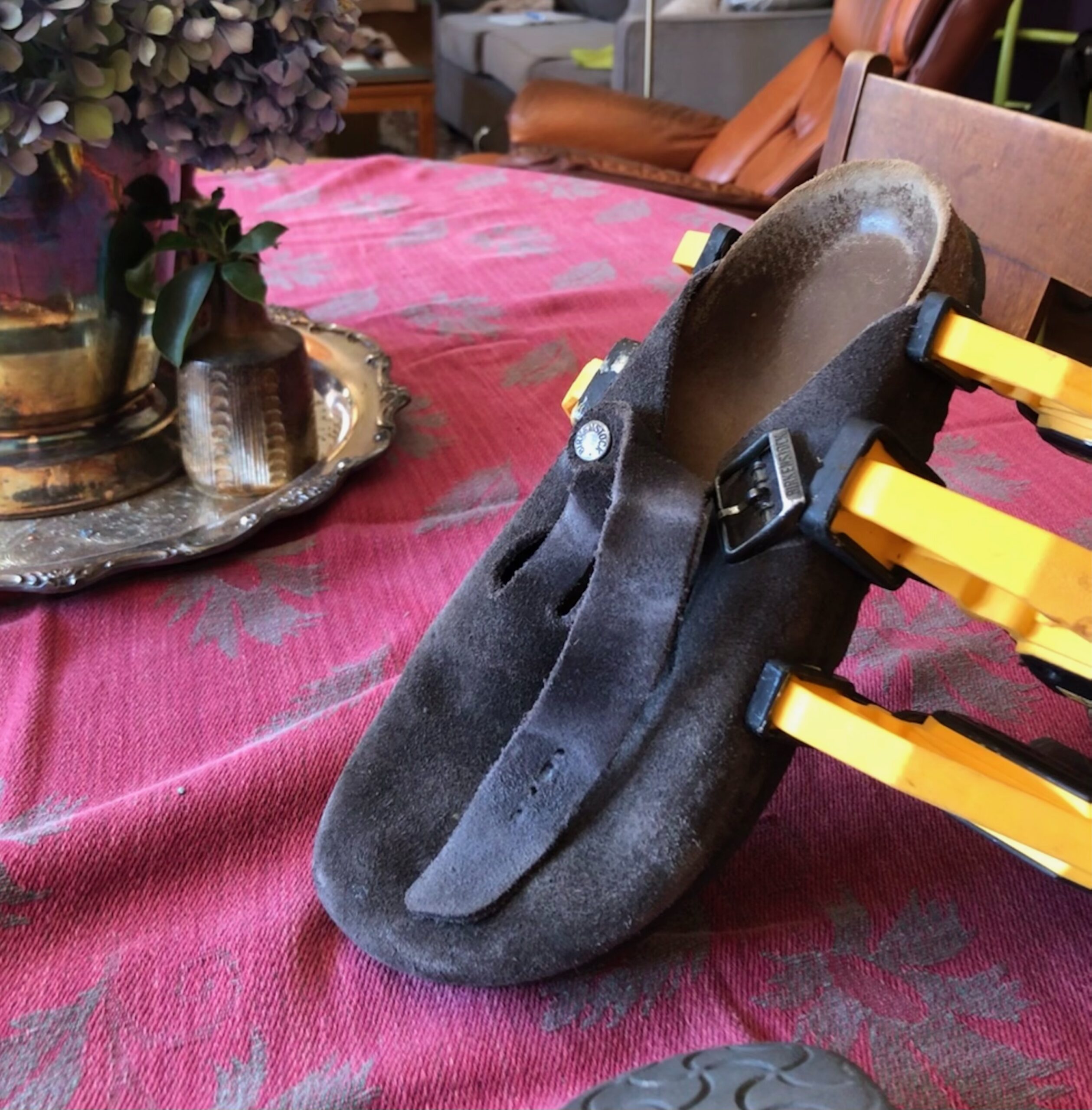 My husband replaced the motor on our clothes dryer this summer, so we were super bummed when the drum suddenly stopped spinning. Luckily my husband was able to identify that the culprit was a simple broken belt. $8.91 for the belt and fifteen minutes of labor and we're once again in possession of a functioning appliance.

Whenever this kind of thing happens, I think about all the people who replace appliances without even attempting a repair.  It's not as simple as "If I can do this, anyone can," (which grossly oversimplifies people's lives) but I shudder to think of all the appliances in the landfill that could've been fixed instead of trashed.

My older sister gave me a pair of hand-me-down Birkenstock clogs a few years ago, as they were too big for her. (It pays to be the big footed sister!) Unfortunately, the suede tops have a hard time staying adhering to the sides of the cork footbed. Luckily, it's just a matter of gluing the sides back together, which I've now done twice. Just squiggle on the super glue, clamp them tightly and they're basically as good as new.

This $155 "Boston" style shoe is apparently  on trend for Fall 2022, which I find to be pretty hilarious as they're the primary shoe of choice for my decidedly unfashionable 87-year-old father. Perhaps he's on the cusp of being an international style influencer. Tony Wolk — retired professor and fashion icon.

My husband is doing his level best to build a nine-foot square platform deck out of the leftover component pieces from our disassembled backyard tree house. He did buy new screws, bolts and a few other miscellaneous pieces, but we should be able to complete the project for under $200. Considering that the supposed average price of building a deck is $30 per square foot, we'll be saving over $2000!

I already have a small outdoor table and chairs, so I should be able to set it up nicely without having to shell out any money.

I scored a $1 bag of random produce from Fred Meyer that included two zucchini, one orange, two jalapeño peppers, one lemon and two red peppers, I worked on my laptop at Ikea and took advantage of their free coffee, I got a free case of chocolate covered marshmallow snacks from my favorite grocery liquidator and then donated all but two of the packets to my neighborhood's free pantry, I grabbed an extra pound of $2 organic salad greens (reimbursed) and a 79¢ container of blueberries (a gift) for my friend Lise, I listened to The Christmas Bookshop, by Jenny Colgan through the free Libby app and then read a library copy of French Braid by Anne Tyler, I planted some propagated rootings and then started new ones, (wandering Jew, ficus and another plant whose name alludes me) and I was inspired by how nice my father's house looks after having been power washed, so I took a bucket of soapy water and washed the siding from my front porch, which brightened it up considerably.

I got the police to take a bike that a neighbor found abandoned on their property. They'd stuck a "FREE" sign on it, but I knew that it must be a stolen bike. This way there's a chance that the original owner can get their bike back.

I didn't buy a Lear Jet.
Katy Wolk-Stanley    
"Use it up, wear it out, make it do or do without."