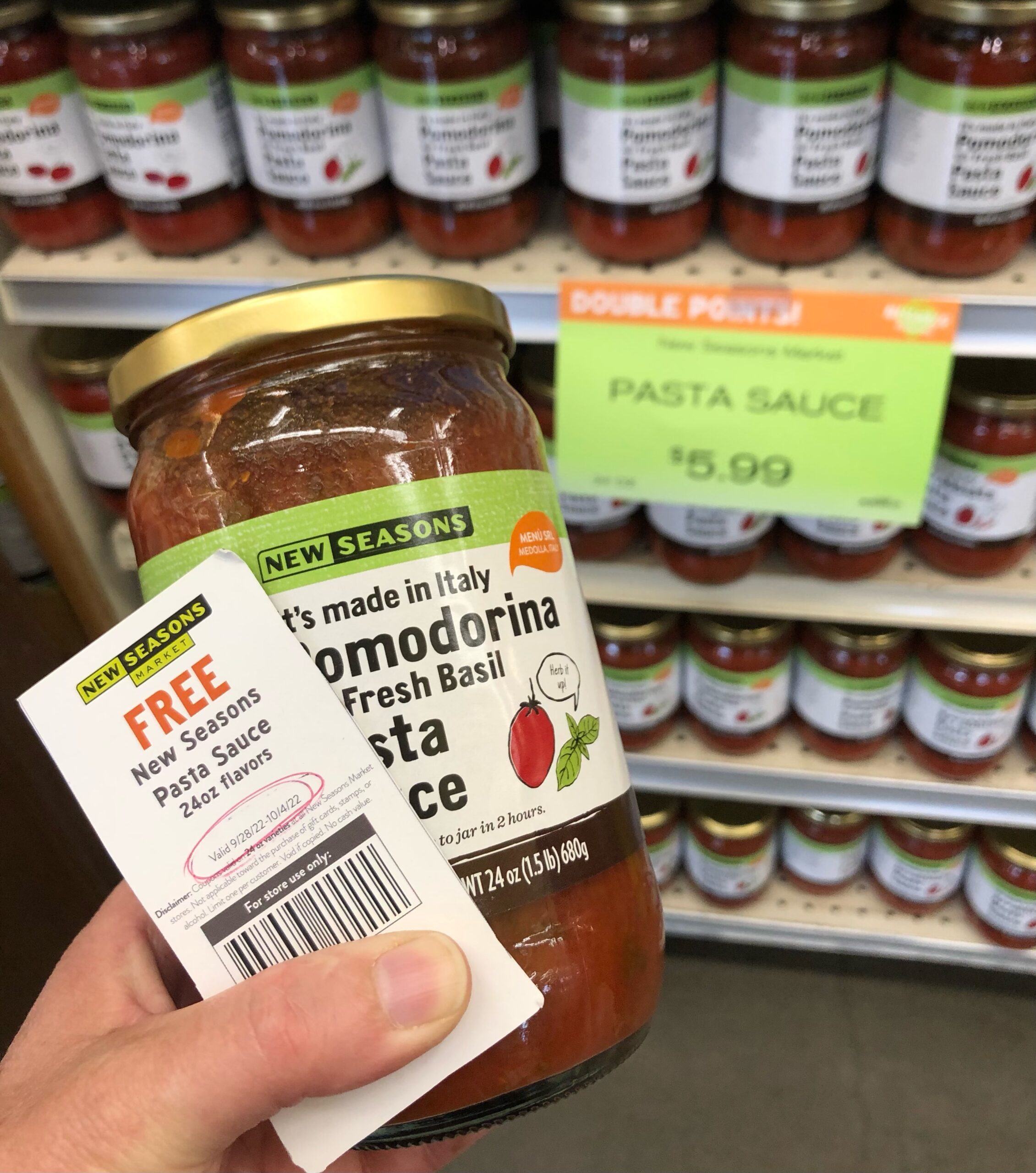 I received a large postcard of coupons for a high end grocery store that's normally too pricey for my cheap blood. It included a coupon for a free jar of pasta sauce, which I promptly snipped. This coupon was dated for a week or so out, so I added it to my calendar to make sure it wouldn't slip my mind. I then gave the rest of the postcard to my next-door neighbors as it had multiple coupons for 10%-off this and that, and they do shop there.

This may sound like a lot of trouble for a single food item, but it involved just a few minutes out of my day. I normally make my own pasta sauce, but this pantry staple will serve as a time saver on an inevitably busy day in the future. It'll bar me from to succumbing to takeout's siren song and feed the people I love. I do love me some free food.

I cooked multiple frugal meals from scratch, (endless, is the word "endless?" Because that's how it sometimes feels.) This includes red lentil soup, cheesy grits, tacos with bulk purchased pinto beans, baked potatoes, twice baked potatoes, thrice baked potatoes and even a $5 Costco roasted chicken that snuck a bit of meat into our diets.

I buy our produce from either Winco or the Everyday Deals grocery liquidator, although I've been trying to hit the liquidator more often as their prices are at least 75% less that any traditional grocery store. Unfortunately the store is a schlep from the house, although it's literally next door to a big Goodwill, so I'm able to rationalize it as "combining errands." Worth it though, as the above cart of produce set me back a mere $13.

I saw an Instagram ad for a bra that might work for me, so I gathered all the details and instead bought from eBay. Not only did I save money, ($14 vs. $36) but I also supported a small business person and my purchase didn't prompt the manufacture of a brand new item.

Choosing eBay or similar keeps otherwise unwanted goods back into circulation and puts money in the hands of people who spend money in their communities instead of hoarding wealth or spending it on ego driven rocket ships. Officially, "bras" are on my self-approved list of items I'll buy new, but there are millions of new and "like-new" items available on the secondhand market. Already manufactured, just waiting to be put back into use.

And no, it's not gross.

I gave away a piano keyboard, a fabric sunshade, a magazine holder and some random pantry items through the Buy Nothing Group, I listened to The Four Winds by Kristin Hannah through the free Libby app, I asked for and received a pair of pruning shears for gardening, I walked my laptop over to the library for a free tech help session, my next door neighbor gave me a huge tomato from her garden, I lent her a shovel and bin and I sold a pair of sneakers on eBay that never fit right. 

I didn't buy a Lear Jet.
Katy Wolk-Stanley    
"Use it up, wear it out, make it do or do without."