Yesterday I had a whole plan in place about how I was going to the "fancy schmancy beauty school" to get my hair cut. It was going to be free, and I was going to use my free bus pass to avoid paying for parking.
Good plan, right?
But then someone in The Non-Consumer Advocate Facebook group posted a video of a woman cutting her own hair, and it just look so easy and it turned out so cute!  And then I started thinking about how if I cut my own hair it wouldn't eat up half my day and I would be able to open my day up for more productive endeavors.
Good plan, right?
NO! Bad plan, very bad plan!
Here I am before cutting my own hair. It's very long, too long really as it was getting easily tangled and was looking stringy. Of course, it looks okay in this photo because I had just brushed it, which is how it would stay for a full five minutes per day.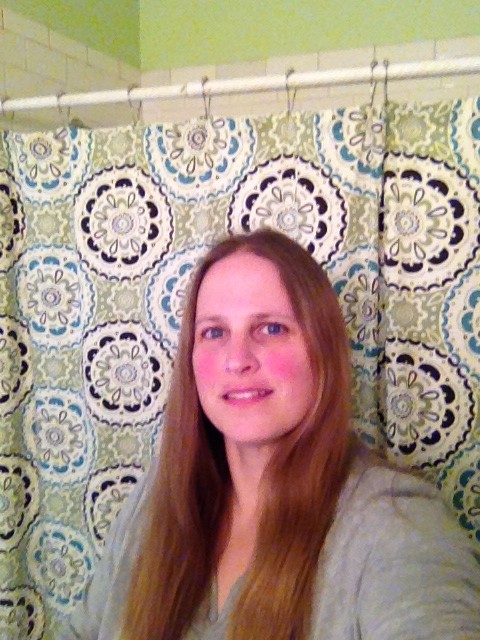 And here I am with my first ponytail. I left it loose in the front because I didn't want the layers around my face to be too short. So you know, I was being thoughtful and deliberate. Not crazy at all.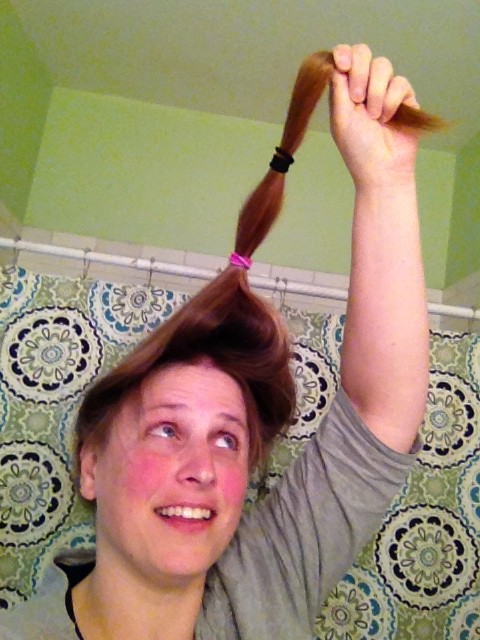 And here's how my hair looked after the first cut: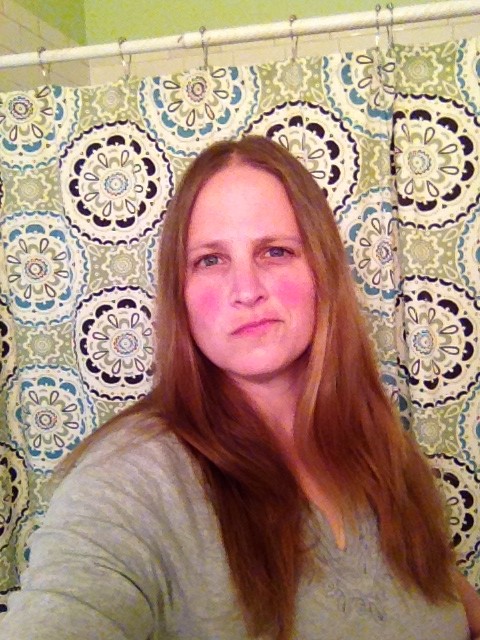 Of course, I didn't recognize the perfection. No, I thought I could make it better. (This is where the insane mindset started to take hold.) So I adjusted the ponytail and cut some more.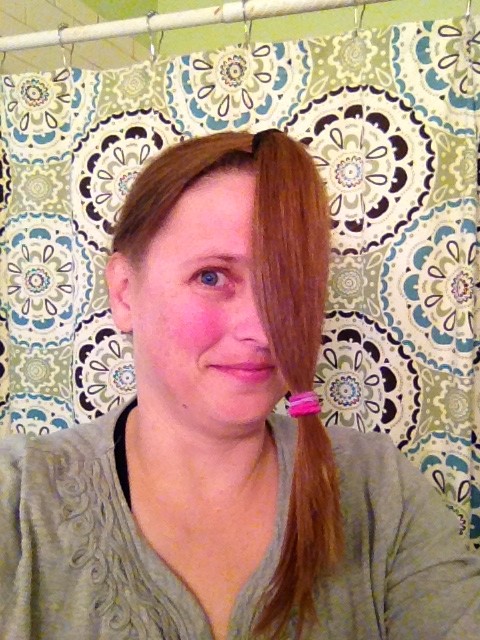 See how my cheeks are getting pinker and pinker? That should have been a red flag for me. But noooooo I had my blinders on.
Here's how it looked after chop #2. Note the deer in the headlights/tharn look.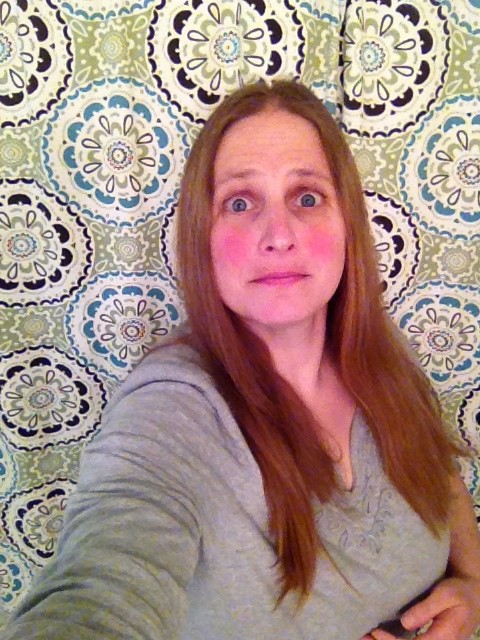 See how the layers around the face are now way too short and unacceptably choppy? "No problem" said I. "I can fix that by moving the ponytail to the back and cutting some length from the hair.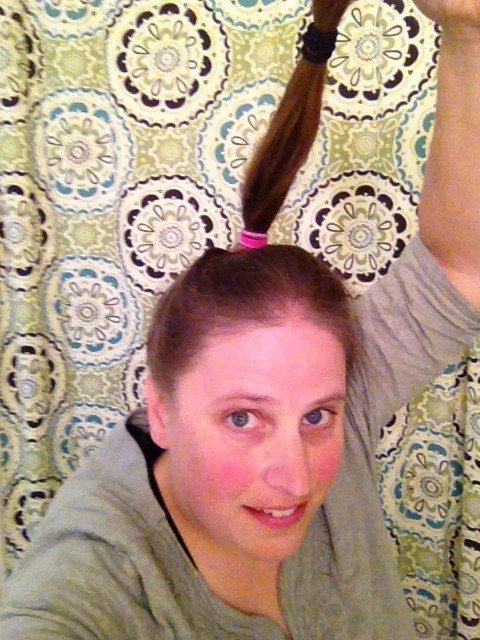 I ended up with it short in the front, long in the back hair. A MULLETT! A LADY MULLETT!!!!!!!! (And not even a very good one!)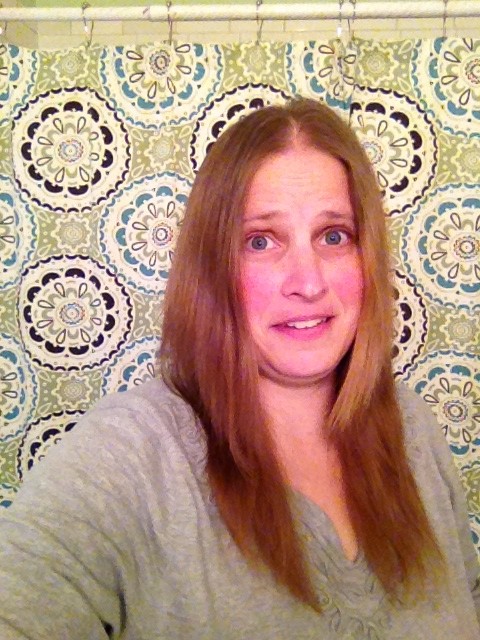 At this point I stopped documenting and started to attempt some damage control. I'll let your imagination take over, but here are some keyword prompts to guide you.
"Argghhh!"
"Noooooo!"
"Fuuuuuuu!"
It helps if you start to hear the whooshing sound of your pulse in your ears. Nausea also. Definitely some nausea.
I then took the scissors and cut all my hair to the length of the shortest mullet-y bits. Nothing fancy, no tricks, just straight-up scissors on hair.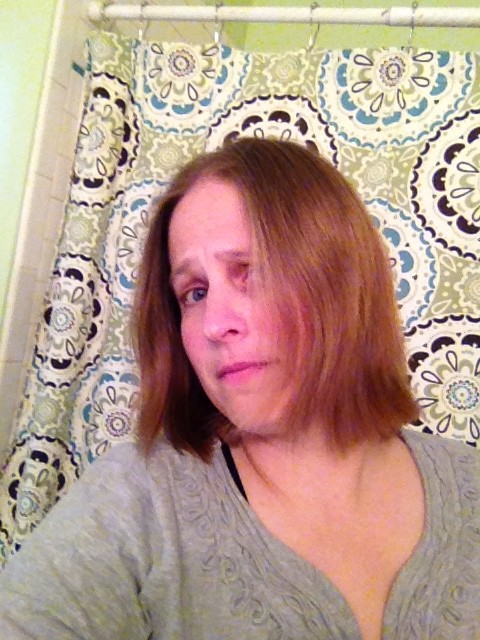 Stop me now before I kill again.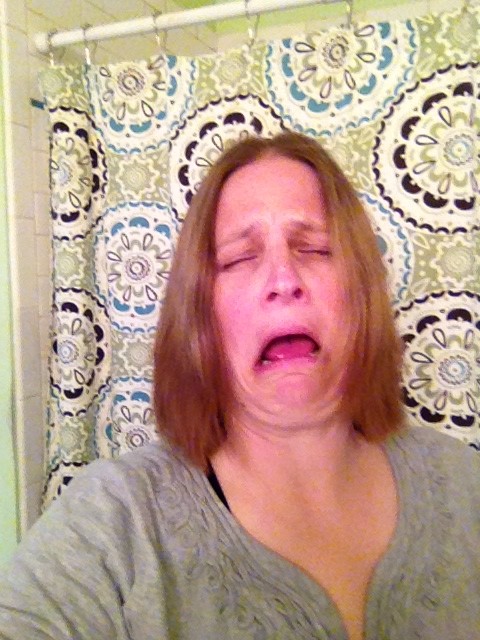 So let me be your cautionary tale. Do not cut your own hair if you are the type who is unable to stop.
I have nothing to say. And yes, I'm wearing a hat. And every woman I saw while driving my son to school this morning made me want to cry, because I kept repeatedly thinking "that woman didn't cut her own hair."
Frugality gone too far. I've finally found it.
Katy Wolk-Stanley
"Use it up, wear it out, make it do or do without."