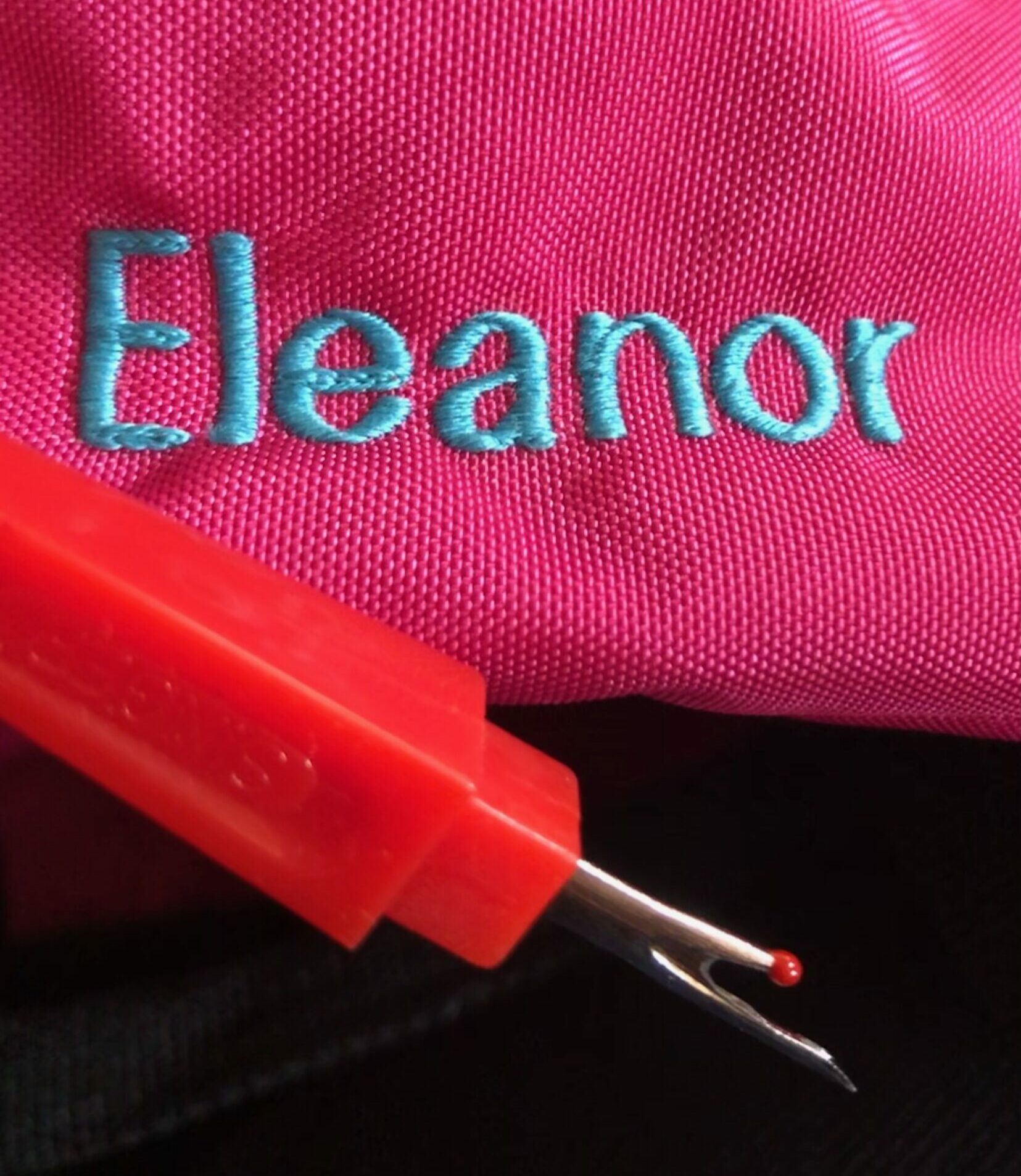 I took my mom to the Goodwill bins, where I scored a small LLBean duffel bag, a new looking Land's End lined rain coat, (in my size!) a lazy Susan and a miniature wooden Pinocchio. All of which I'm keeping.

The Adventure duffel was unfortunately embroidered with the name "Eleanor," which I'm 93% sure is not my name. While it would've been perfectly acceptable to keep the monogram in place, (maybe it's the bag's name and not that of the previous owner?) I decided this was the perfect opportunity to experiment with removing the lettering. I paid around 50¢ for the duffel, so it wasn't exactly a big gamble.

Luckily I own a lil' seam ripper, which worked perfectly. Sure, it was a slow and finicky job, but I used it as an excuse to watch delightfully mindless TV.  I probably spent 45 weirdly satisfying minutes picking out the stitching, all the while being verrrrry careful to not snag the fabric.

Can you still read the "Eleanor?" Sure, but I'm guessing it'll fade with laundering and use. I'm going to keep the bag as the quality is excellent and it's the perfect size for an overnight trip or some sort of local adventure.

You can click HERE to watch my step-by-step process.

I've gotten lazy again with listing stuff on eBay, which translates into few sales. However I did sell these items this week:

• A vintage flying geese wall art piece — I paid $1.99 and sold for $48.
• A Cutco slotted spoon — I paid 99¢ and sold for $13.50.
• A cashmere flat cap — I paid $4.99 and sold for $70.
• An Aristocats stuffed animal — I paid $2.99 and sold for $30.

I asked for and received my neighbor's "$10-off-$50" Winco Foods coupon that came in the mail. I know they don't grocery shop there, so it would've otherwise gone to waste. This may reek of over the top moochiness, but I always tuck my New Seasons Market coupons into their mailbox so I feel zero guilt on this one.

I used some chicken thighs that my daughter brought home from work to brew up a huge pot of chicken noodle soup, (which also included four bendy carrots and the zest and juice of a lemon leftover from my aunt and uncle's visit!) I called Costco and got a $100 refund due to the three documented scratches from the delivery and installation of our new refrigerator, I served my mother a bowl of reheated broccoli potato soup after the bahn mi restaurant we initially tried was closed, I listened to Summer at Tiffany by Marjorie Hart through the library's free Libby app, and then started listening to Little Beach Street Bakery by Jenny Colgan.

I didn't buy a Lear Jet.
Katy Wolk-Stanley
"Use it up, wear it out, make it do or do without."