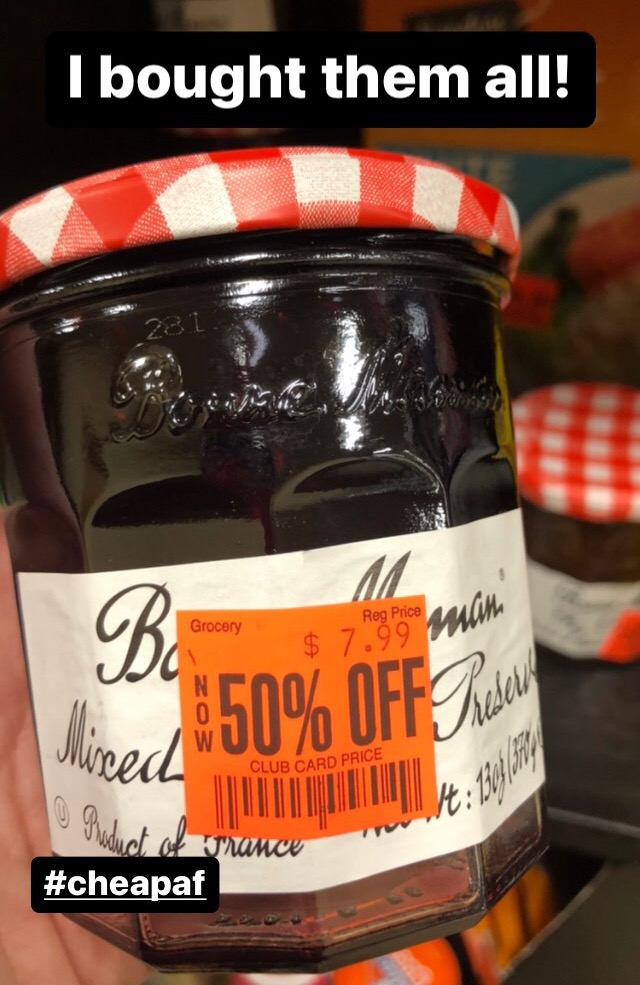 I turned 55 this week, which is especially exciting as I now quality for a 10%-off senior discount at Goodwill. (At least on Wednesdays.) As is our custom, we celebrated my birthday by eating stuff and doing stuff.

Here's what we ate:


• Dim sum at Excellent Cuisine for brunch. (So so so good!)
• Tacos from our friendly neighborhood Mexican food cart. (Also so so so good!)
• A Costco cheesecake, which might actually have been cheaper than making one from scratch.

Here's what we did:


• Hit up three different Goodwills.
• Stopped at a Starbucks for a free birthday drink, which was then split into two cups.
• Found a sopping wet fleece neck gaiter, which I washed and added to our winter gear basket.

I prefer to not receive much in the way of gifts, but my husband did order me a two-pack of Dundee orange marmalade, (my favorite) which should arrive at any moment.

I sadly didn't find anything all that interesting while out thrifting, but it was still fun to scour the Goodwill shelves while on a birthday high. Wednesdays just got a whole lot more interesting!

My dad spent an entire day with me as his car was being serviced by a nearby mechanic. He brought over a loaf of homemade bread, which is his signature dish. He also packed a book of Chekov short stories in case the day ran long, but instead we filled the day chatting, playing cribbage and eating toast. Very frugal.

My mom and I spent a day together that was supposed to center on hitting the Goodwill Outlet/bins. Unfortunately the parking lot at the bins was 100% full, with six competing cars for every potential spot. We circled and circled and finally gave up. After all, we are still mid-pandemic and a crammed parking lot equals a crammed Goodwill.

Instead I drove my mom to my house and placated her with fish tacos, McVitie's digestive biscuits and multiple episodes of Resident Alien. I then assembled a simple dinner of omelettes with Swiss cheese, mushrooms and sautéed greens. Very frugal.

I went to the dented vegetable store and scored two big-ass packages of organic mixed greens for $2 apiece and five enormous avocados priced at 5/$1 (I gave one of the salad mixes to my friend Lise and one of the avocados to my father) I found a penny and then a dime on the ground, (11¢ in 2023 so far!) my daughter brought me three packages of pancetta from her grocery store, I bought five jars of half-price Bonne Maman mixed berry jam for $3.98 each, my neighbor let me put out an extra yard debris bin with her pickup and my friend Lise brought me a birthday goodie bag filled with handmade crackers, cookies, chocolates and cheese.

I didn't buy a Lear Jet.
Katy Wolk-Stanley
"Use it up, wear it out, make it do or do without."