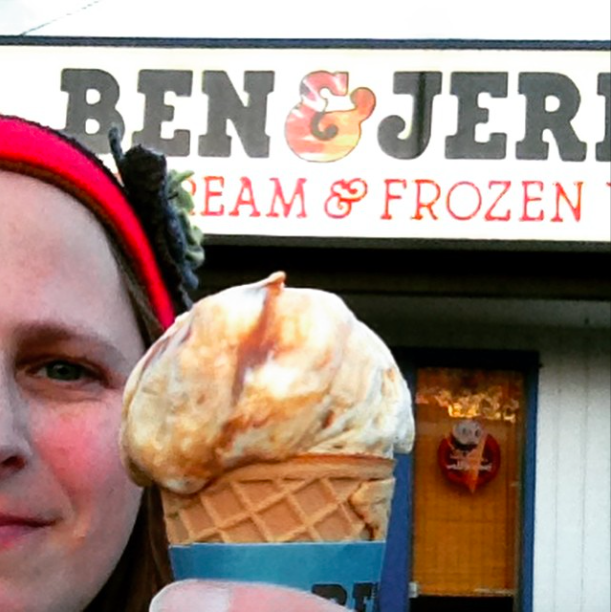 Yesterday was Ben & Jerry's annual Free Cone Day, which is a special event in my household. So as soon as dinner was over (white bean rosemary soup and a homemade french bread sandwich to use up some miscellaneous cold cuts) we hoofed it down to our local scoop shop and waited in line with the other cheap sugar addicts. My younger son got a New York Super Fudge Chunk cone and I took the advice of a reader who had just braved the line and got a Salted Caramel cone. Mmm . . . ¡muy rico! My older son had been through the line earlier and my husband bafflingly chose to not come. Weirdo.
My older son is taking an art class at the local university and needed a new sketch book. I noticed that a few of his items from last quarter were still in their original packaging with attached priced tags. He and I walked over to the local art supply store and I brought his never used stuff along for the ride. Although I no longer had the receipt, I was able to exchange everything, as well as buy what my son needed without paying a penny. I actually got $7.15 cash back from the transaction, which of course went straight into the boys' college fund. (Of course, it helps that my younger son works at this store, so they know to trust me.)
I stopped at The Grocery Outlet this morning after dropping my son at school and bought two bags of food for $16.30. This included yogurts, mangos, avocados, nice salami, cereal, a huge container of plain popcorn and cream cheese.
I finished listening to my library audiobook of The Boston Girl and have downloaded Shopaholic to The Stars onto my iPhone4. What can I say? I like a variety of different literary styles!
I stopped at Goodwill on my way home from dropping my older son at school today. Ostensibly it was to A) Find diamonds in the rough to resell or B)Photograph weird stuff for the blog. I somehow bonded with this wonderful $3.99 velvet throw pillow that had no choice but to follow me home. Luckily, I still have most of a $50 Goodwill gift card, so no money left my wallet.
See you great the pillow is?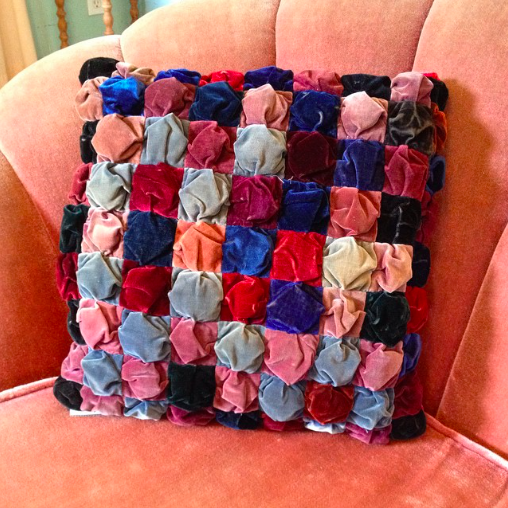 Now your turn. What frugal things have you been up to?
Katy Wolk-Stanley
"Use it up, wear it out, make it do or do without."