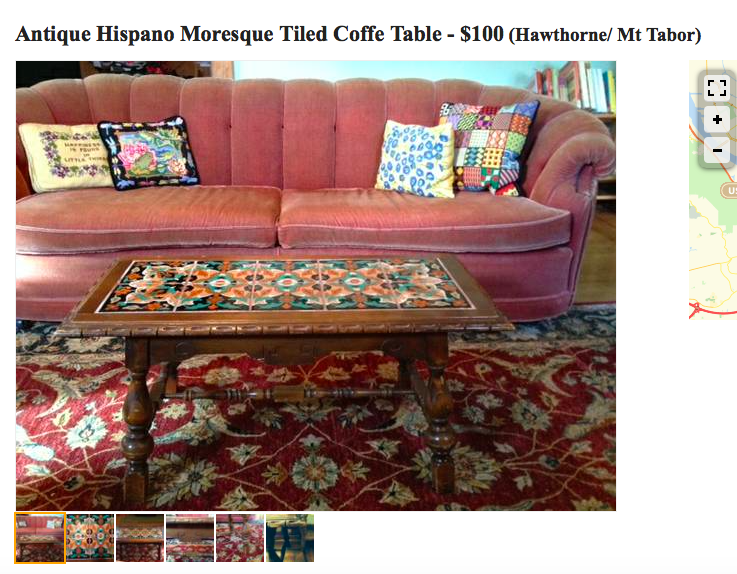 Five things that make me happy:
I made $100 selling a cool antique (but thrifted) coffee table that my mother wasn't using. She and I had spent a few hours going through the back of her kitchen and she'd encouraged me to sell anything she'd otherwise be getting rid of. (I think she was more excited about the sale than I was!) Plus, it went to a collector of the Hispano Moresque style of tiled tables, so I know it went to a good home. #collegefund
My sixteen-year-old son is learning to drive and we've started letting him do all of the driving for errands, which means that he's getting better very quickly. It's a joy to see him taking on adult responsibilities with confidence. Even if it means having my hair go completely white within a matter of months. (Seriously, I think being in the car with a new driver is the greatest gift of love a mother can give to her child!)
Fred Meyer has had some very practical loss leader sales lately including milk, butter and eggs. Being able to inexpensively stock up on these staples frees up our grocery budget, which is very helpful.
I came up with an absolutely amazing idea for my father's 80th birthday gift. (I can't share it here, but I will after June 23rd.) Not only will the gift be personalized, but it will also be very, very frugal.
I am extremely happy that I was able to opt my son out of his university's health insurance plan for the current quarter. The $694 I wasted last month still makes me burn.
One thing that's pissing me off:
I somehow spaced out Fred Meyer's annual Fuchsia Saturday event where they sell fuchsia starts at 5-for-$3 and even include the potting soil! This is my one gardening expenditure for the year, and I love seeing my hanging baskets on the back porch. I already used last year's soil in other areas, so the wire baskets are currently swinging empty in the breeze. I guess I'll just figure out something that I already have to go in the baskets, but I'll be sure to mark my calendar for next year's fuchsia day! Seriously, I'm kicking myself over this!
Now your turn. What's making you happy and conversely what's pissing you off?
Katy Wolk-Stanley
"Use it up, wear it out, make it do or do without."