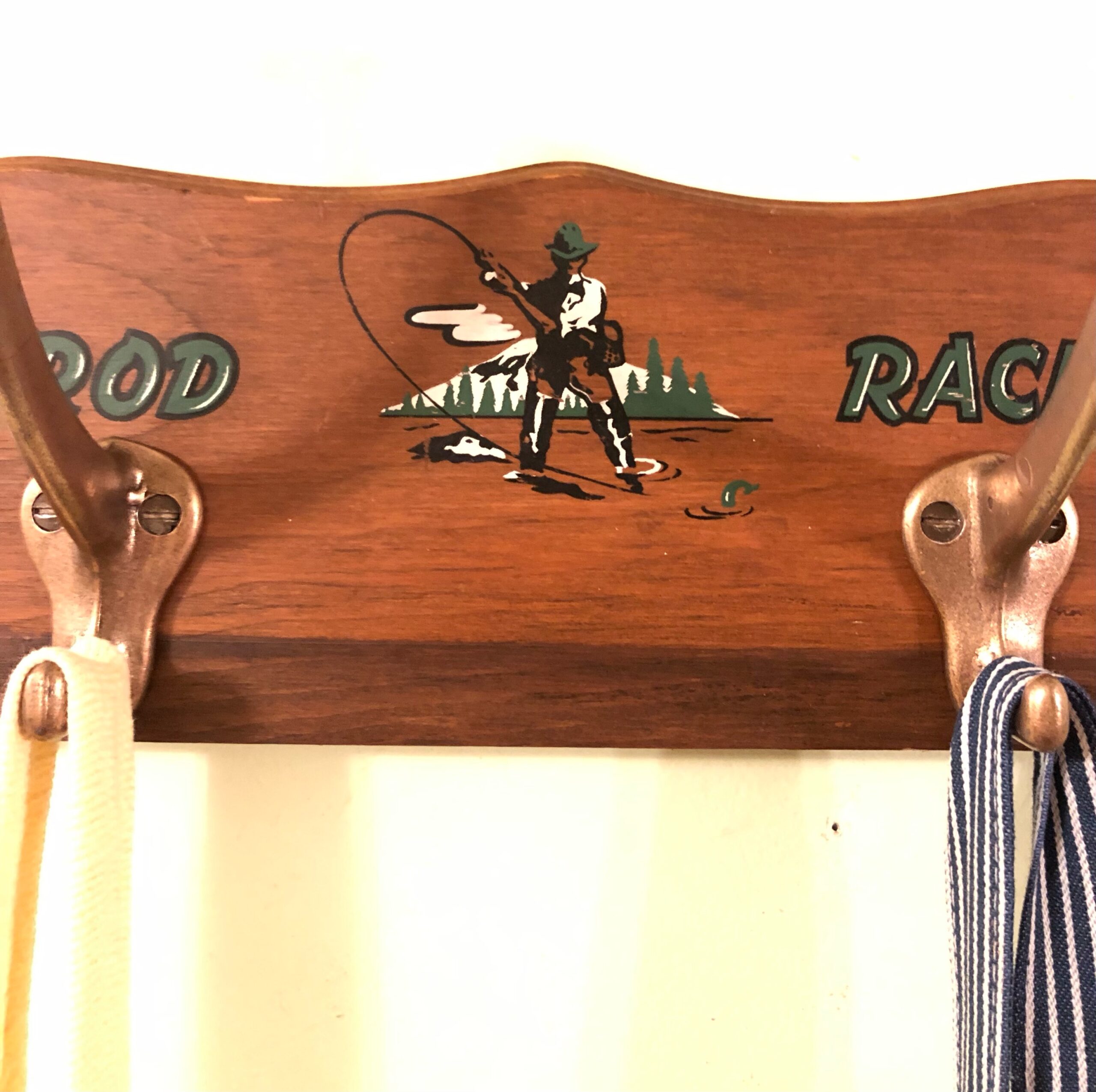 I upcycled a cute vintage fishing rod rack to hang aprons in the kitchen. We've always draped aprons over the pantry door, which meant the door never closed properly. Not really an issue, but it's nice to finally have a designated spot for them. Mind you, these aprons are in frequent rotation as I cook from scratch, which can be a messy endeavor.

I initially photographed the $3.99 "Rod Rack" for my Instagram account, as I thought the vintage graphics were adorable. Later I regretted leaving it behind when a few of my followers suggested that it could be upcycled. I made a beeline back to Goodwill the next morning and found it hadn't been sold.

I did remove a wooden piece and wipe a bit of extra stain over the bottom, but that took all of five minutes. I already had a couple brass hooks from a long ago free pile, which meant there was no further expense.

I'm really happy with how it turned out!

My husband and I splurged on a single night at Kalama Harbor Lodge, which is located along the Columbia river. Although it's only an hour from Portland, it still felt like we were escaping the gloom that weighs on us Pacific Northwesterners this time of year. The rain, she never ends.

Check in time was 3 P.M., but we left a couple hours early so we could poke through Vancouver, Washington thrift shops along the way. I didn't find anything worth picking up, but my husband nabbed a Carhartt flannel jacket, which quickly became one of his favorite belongings! We also stopped into Albertson's for snacky lunch items as I still had some money left on a $150 gift card I earned from participating in a focus group.

Our "splurge" included both dinner and breakfast at the lodge, plus we paid a bit extra for a balcony facing the river. Sure it was just as dark and rainy as home, but our room included a view of sea lions, rabbits and hummingbirds.

It really was the perfect mini-break as the travel to and from was next to nothing, yet still gave us a break from our routine.

I curb picked a $550 Kitchenaid mixer, which included a bag of accessory pieces! It may need a tune up, but my husband replaced a gear and re-lubed one we resold a few years ago, so I'm confident that we can get this one to perfect working order. I already own a smaller Kitchenaid mixer, so I'll be selling this one.

• I cooked black beans in the instant pot for taquitos, which is the cheapest and yummiest meal. I added a couple shakes of taco seasoning, which I buy in bulk at Winco.
• My husband and I did our taxes and will be getting both state and federal refunds. Apparently we're at "medium risk" of being audited as my business (the blog) lost money in 2022. (Remember how there were no advertisements for most of last year?) I have to pay for blog hosting, domain registration and replaced my outdated 2008 laptop last summer. I could easily monitize the blog through sponsored posts and Amazon referral links, but doing so would be antithetical to my non-consumer message.
• I got tickets for Darcelle XV's, celebration of life. (I was willing to buy tickets, but they turned out to be free.) For those not in the know, 92-year-old Darcelle was a beloved drag queen and nightclub owner. My mother was close with Darcelle and even worked there as a cocktail waitress when I was in high school. You can read my mother's reprinted 1975 article titled "That's No Lady, That's Darcelle" as well as her most recent essay titled "Darcelle and Me."

And yes, the baby in that photo is my sweet daughter.

I didn't buy a Lear Jet.
Katy Wolk-Stanley
"Use it up, wear it out, make it do or do without."