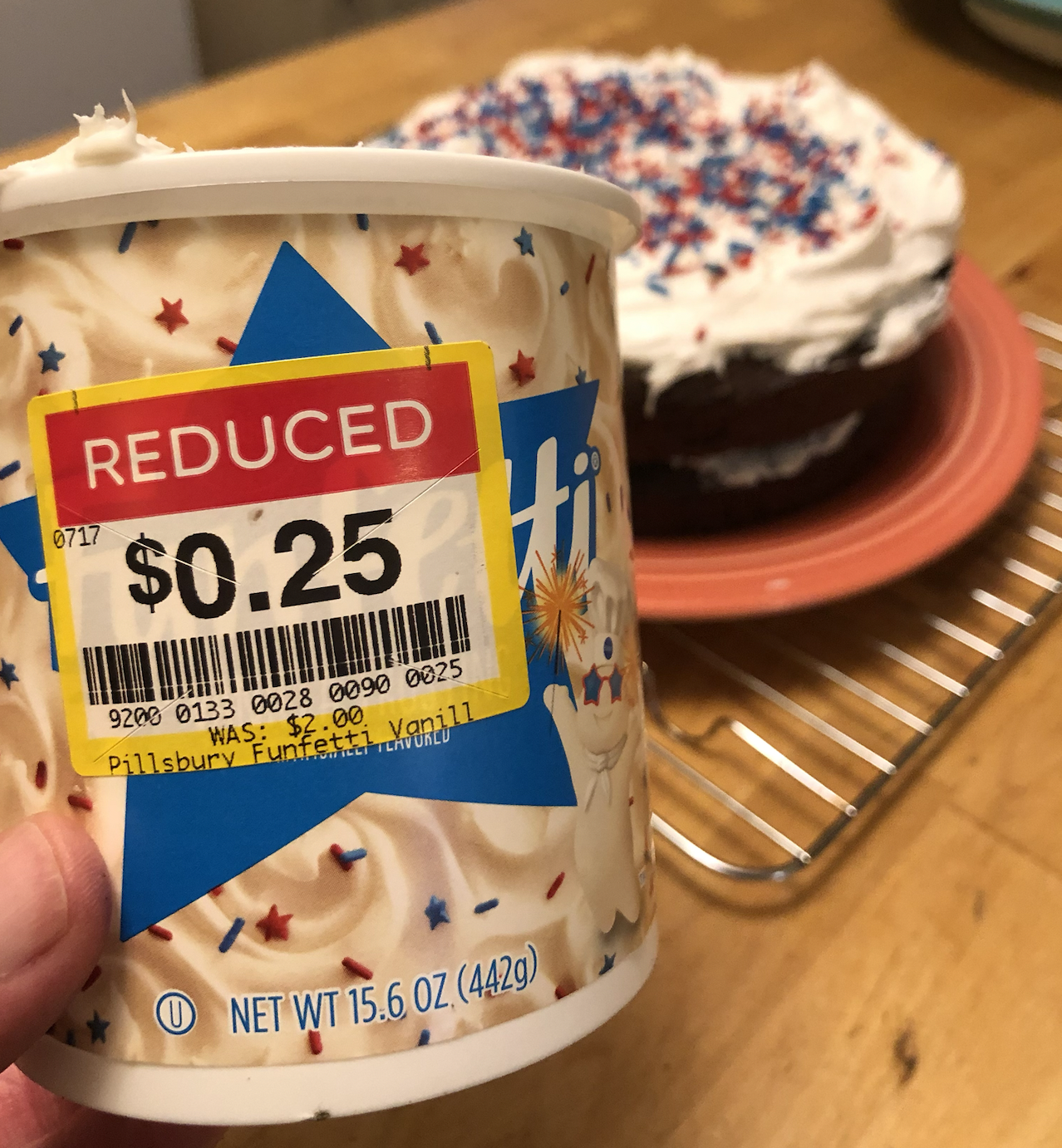 We received a notice that electrical work in the area was going to result in up to five hours without electricity. I didn't want our food to go bad, so I brought up a cooler and filled it with ice packs and any food we might need throughout the day. I also taped the refrigerator shut to ward against anyone (me) mindlessly opening the doors. We ate the frozen Safeway pizza that I picked up for free last week, plus a Trader Joe's salad kit for dinner. It would have easy to rationalize eating out, but I prefer to save that for special occasions.

Nothing frugal about letting food go to waste.

I bought a Variera Ikea storage bin at Goodwill for $1.99, (normally $4.99) which served as the catalyst to reorganize our cluttered refrigerator. I'd been wanting to corral some "like items" into bins, so this was a perfect find. It's now holding cheeses and I'll start to keep an eye out for additional ones to continue this project. Ikea items are mass produced enough that I can't even count how many times I've come across this exact item while thrifting.

I know I can pop over to Ikea and buy as many as I need, (two, I think I need two more) but overmanufacture of consumer goods is killing our planet, so I choose used over new whenever I can.

I sold:

• A vintage Taylor & Ng cat food bowl. I paid $4.99 and sold it for $50.
• That's it. That's all I sold.

• I iced a cake with a 25¢ can of frosting that I picked up after the 4th of July holiday.
• I've been scanning all my receipts into the Fetch and Ibotta apps to earn cash back.
• I finished reading the library book I started last week and even returned books on time even though my library system no longer charges late fees.
• I bought my son a $5.45 Starbucks drink for just $2 at Safeway, as I'd downloaded a Just 4U coupon on their app.
• I used a Franz Bakery Outlet punch card from a friend to buy five loaves of bread.
• My husband opened a jar of marinara sauce even through there were already two open jars in the fridge. (Grumble, grumble, sigh . . . ) I bought a half pound of ground beef and upgraded two of the jars with some extra herbs and spices and was able to serve a slightly fancier pasta meal to mostly use up any sauce before it went bad.
• My daughter brought me some crumbled but otherwise delicious cookies from her schwanky grocery store.
• I donated an enormous box of clothing and miscellaneous stuff from my adult daughter's old bedroom. I'm working to turn her room back into usable space, which it hasn't been since she took all her furniture to her apartment when she moved out last year. There's no deadline for this project, so the pace is relaxed which is good as I'm looking to not spend any more money than necessary.

I didn't buy a Lear Jet.
Katy Wolk-Stanley
"Use it up, wear it out, make it do or do without."