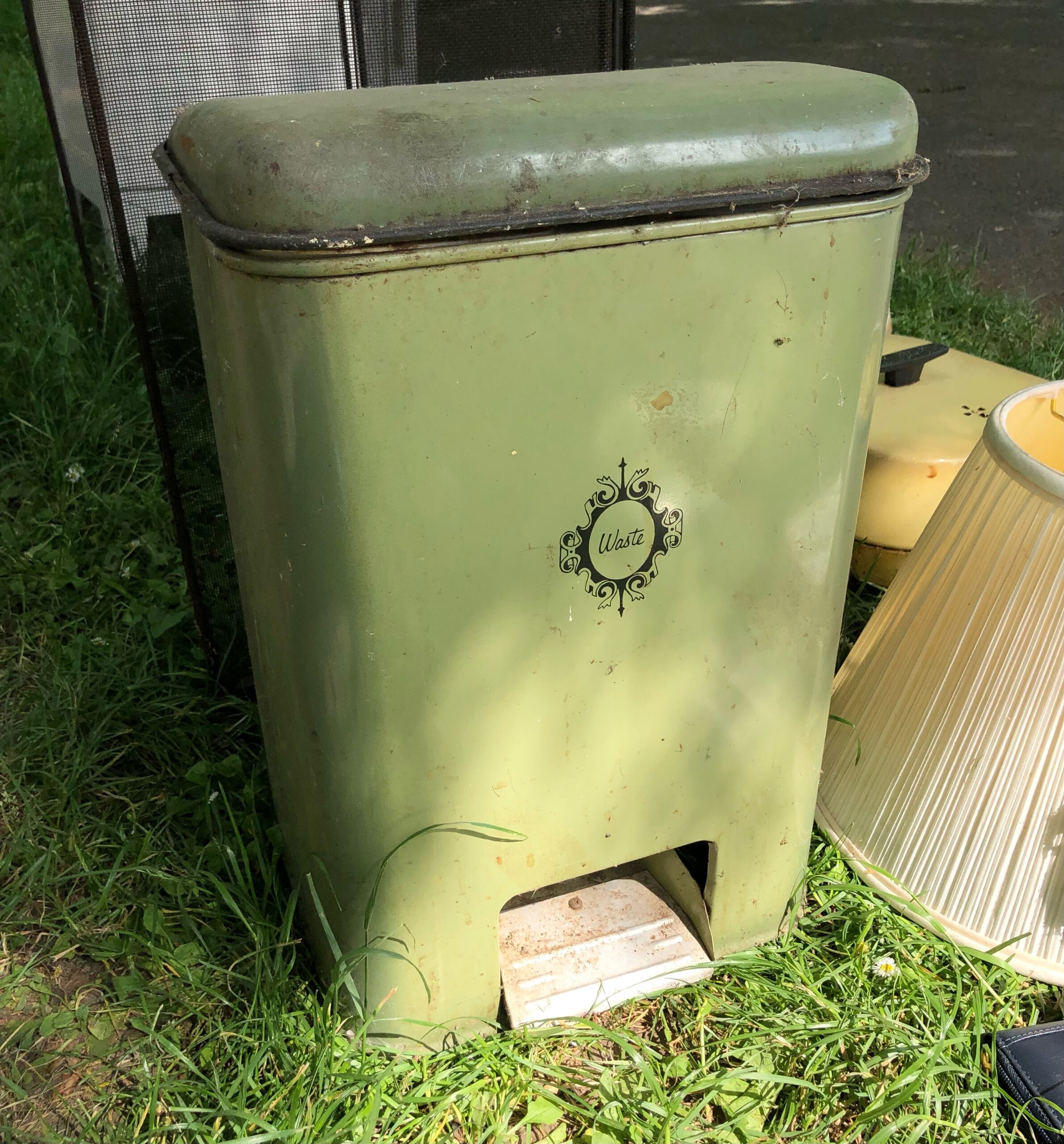 My daughter brought me a free $58 Diestel Cook-in-Bag turkey breast from her schwanky grocery store. I'm unlikely to pay this much on my own, but it was by far the most delicious turkey I've ever eaten!

Her store gives unsold food to their employees, so she gifts me with a variety of random bits and bobs. She's also recently given me an orchid plant, a bag of lil' crostini, four chicken breasts and some slightly wilted broccoli. This work perk means her own grocery bill is almost nothing.

I passed by a promising free pile while driving through the neighborhood and actually remembered to swing past it later in the afternoon. Everything was gross and dirty, but that's not an issue for solid items. Here's what I carried home:

• A knife sharpener, gravy spoon and mini spatula.
• A 1950s-era fireplace screen to replace the one I started disliking soon after I brought it home in 2002. This one looks much more natural in my 109-year-old house and the price was right.
• Three vintage metal lidded glass jars from Hills Bros coffee and Skippy peanut butter. Super cute vintage branding.
• A groovy 1960's era avocado green metal kitchen waste basket. This specimen came with revolting smears and long dead bugs, so I wasn't surprised that no one had brought it home yet. However, I'm a sucker for vintage kitchenware and that "Waste" graphic was just too cute to leave behind. I've given it a thorough scrubbing and left it in the sun to dry. I'll likely go over it once again and call it good.

• I sold another $4.99 vintage lighting globe to a neighborhood store for $20. I thrift these whenever I can as this store always buy them from me. Such an easy sale as I don't have the burden to research, measure, list, pack and mail. Instead I just hand them over. Easy money.
• I lugged a wrought iron patio chair to the corner and it was snapped up in under an hour. This long ago thrifted chair weighed a metric ton and we didn't need it anymore, so I'm happy to have it back in circulation.
• I used interlibrary loan to borrow a copy of The Diaries of Nella Last from my local branch. I usually forget this feature exists, which makes me extra appreciative of this library book.
• I caught an unnecessary online prescription being automatically refilled. I was able to go to their website and click "cancel" before it was fully processed.

Frugal Fail — I met up with a college friend for lunch and forgot to look through the restaurant's online menu ahead of time. I normally do this so I can A) choose the yummiest option, but also B) stay on budget. Instead I was overwhelmed by the obnoxious QR-code menu on my tiny phone and chose what my friend recommended. $17 and downright meh. Next time I'll remember to follow my own advice and ALWAYS LOOK UP A RESTAURANT'S MENU AHEAD OF TIME!

I didn't buy a Lear Jet.
Katy Wolk-Stanley
"Use it up, wear it out, make it do or do without."
Click HERE to follow The Non-Consumer Advocate on Instagram.
Click HERE to join The Non-Consumer Advocate Facebook group.