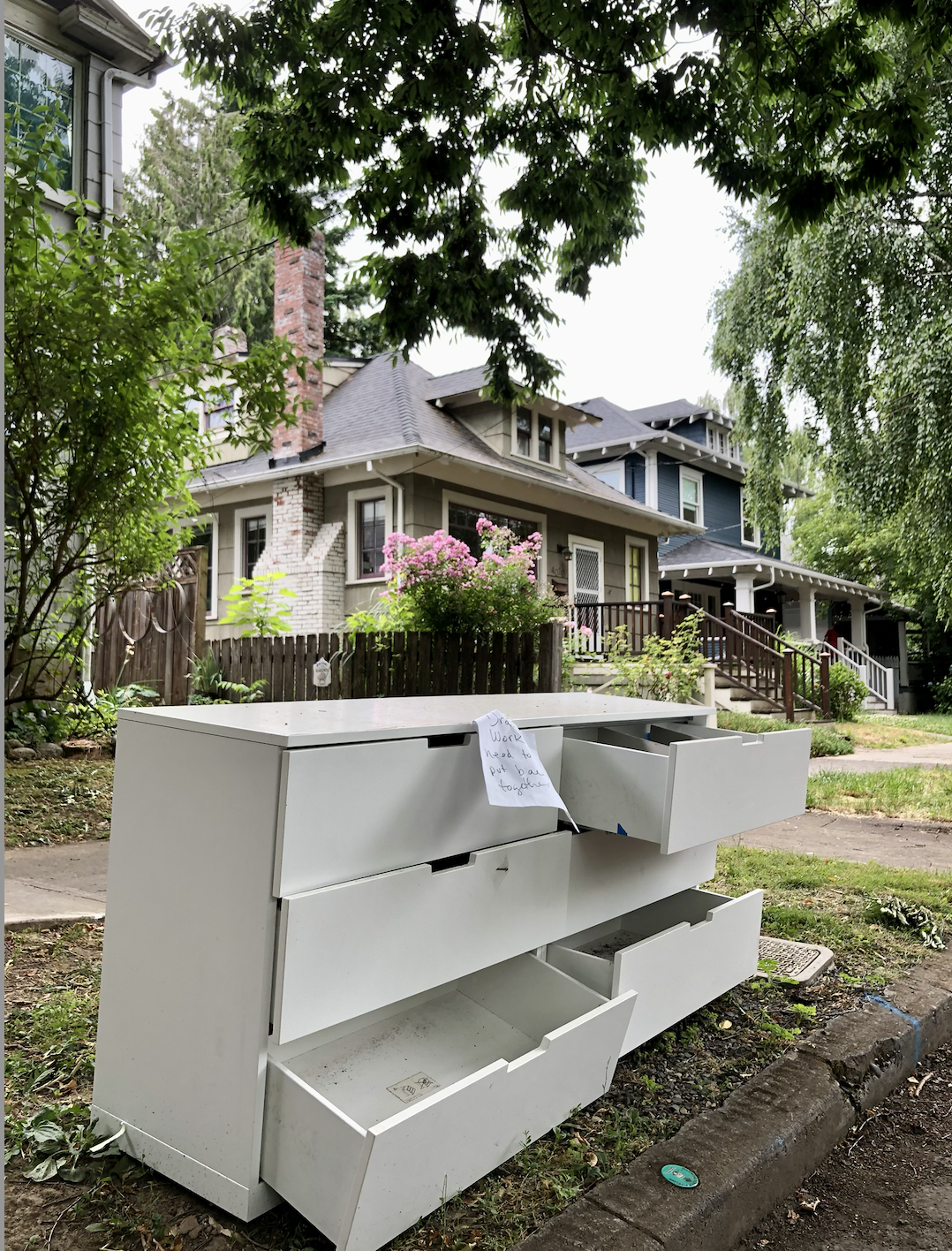 You may remember how I've been on the hunt for a dresser (and a rug) for my daughter's old bedroom, which I've graaaaaaduallllly been reassembling since she moved out. (With all her furniture.) I've even taken to muttering "dresser and rug, dresser and rug" under my mask whenever I enter a thrift store.

Thus far, my incantations had landed on deaf ears. Until yesterday when I took a circuitous route home from the library and passed by a derelict $300 Nordli IKEA dresser set out on the curb. Visually, it wasn't too promising, with grubby drawers and a note about how one drawer was "broken." However, my husband and I are fairly handy and the price was right.

My husband and I spent an hour or so cleaning every nook and cranny and then a year off our lives humping it up the stairs. (It's both insanely heavy and lacking any logical grab points for carrying!) And that wonky drawer? Mostly fixed.

Now, to find a rug.

My daughter brought us more free food from her schwanky grocery store. This week it was:

• Cherries
• Marinated shrimp skewers
• Lactose-free sour cream
• Four eggs

• I got an almost full bottle of CeraVe Facial Moisturizing Lotion from my Buy Nothing Group.
• I was able to get a refund at Winco after being double charged for yams. This was despite the clerk denying her mistake and customer service being closed. I had to get back in line and start over with a new cashier, but received $5.27 for my efforts. Don't worry, I was super polite throughout the process.
• I went to Trader Joe's and only bought the toilet paper, butter and bananas from my list. I always think this should earn me some kind of reward as Trader Joe's is 95% impulse items.
• I did get a cookie sample at Trader Joe's.
• I scored three mesh bags of red, yellow and orange peppers for $1 apiece from the Fred Meyer clearance shelf. I then sliced and froze them for future use.
• I remembered to use a Fred Meyer coupon for a free print of Ben & Jerry's ice cream before it expired.
• We loaned our wheelbarrow to the neighbors across the street for their landscaping project.
• My husband and I shared a single enormous burrito from the neighborhood taco cart, which was plenty of food for both of us.

This last one isn't necessarily a "frugal thing," but I'm going to include it anyway because it's so freaking cool! Remember that free pile from a couple weeks ago that provided my new fireplace screen and the vintage trash bin? It just hit the market and the Zillow listing is the best thing I've seen all year!

Total 1909 time capsule house, as in I don't think a single thing has been updated or "remuddled" since the day the day it was built!

Click HERE for the Zillow listing and then come back and tell me what you think of the stove!

I didn't buy a Lear Jet.
Katy Wolk-Stanley
"Use it up, wear it out, make it do or do without."
Click HERE to follow The Non-Consumer Advocate on Instagram.
Click HERE to join The Non-Consumer Advocate Facebook group.