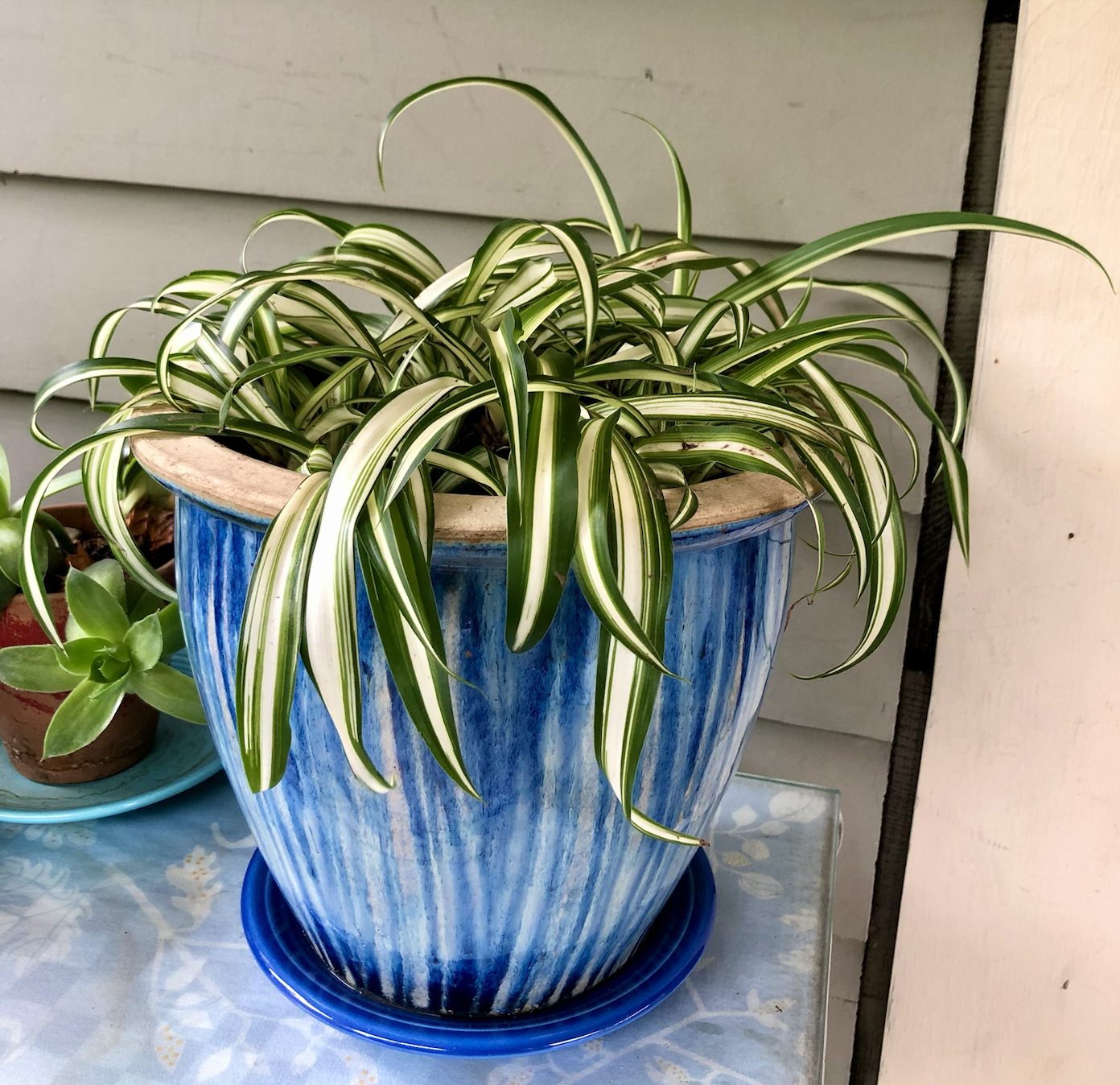 We finally had our neighborhood clean up day, which was nothing short of miraculous! I joked to my husband that it's "my favorite holiday" which is only 49% true. For those not in the know, a "neighborhood cleanup day" involves a huge parking lot with multiple dumpsters for specific obscure recycling as well as straight up garbage. There's also a pay-what-you-will area for reusable items and a plant exchange. It's put on by our neighborhood association and a once a year occasion.

Remember how my husband disassembled our rotten tree house and rebuilt it as a deck? Buy-bye, rotten wood, as well as all the associated rusted hardware. We also took punctured sport balls, cracked wooden baseball bats, styrofoam and an absolutely rusted through barbecue grill. Some of the stuff I walked  the three blocks to the event, but we otherwise filled the back of the seat-free minivan.

We celebrated our son's 25th birthday with dinner at the house. I invited my mother, step father and son's out of town friend, and put out a bagel and lox spread, which was a huge hit. I also made a pot of chicken soup to round out the meal, although I was the only one to eat any. I put together a "dirt cake" using Oreos, pudding and gummy worms. (From the Winco bulk section!) Unfortunately, I arrogantly chose to not follow a recipe and it was truly foul. Like scrape the whole damned thing into the compost foul. Oh well, live and learn.

Our gifts for him were Timbers soccer tickets, plus a coffee theme arrangement which included a Bodum pour-over coffee carafe with reusable filter, coffee grinder, two nice mugs from my eBay inventory, plus a pound of coffee I got for free with a coupon. My sister added a Yeti travel mug, and my parents handed him a crisp $100 bill.

The evening was a big success, despite my husband having to work. The highlight? when my son asked his grandfather for a good Yiddish phrase and my step dad without missing a beat gifted us with "Geyn hobn shilshl,*" (

גיין האָבן שילשל)

which means "Go have diarrhea!" Gotta love those Yiddish sayings, they're always the best!

I thrifted an under-bed wheeled plastic storage container for $4.99, which prompted me to reorganize our bedding. (Don't worry, I gave it a thorough scrub!) Our 1914 remuddled house doesn't have a linen closet, so I'm always trying to puzzle out a deliberate and practical way to store our sheets/towels, etc.

I'm a sucker for organizing paraphernalia, but luckily there's a steady stream of it at both thrift stores and free piles here in Portland. I may never get my big weird house "perfectly" organized, but I doubt that standard is actually attainable in the first place.

• I complimented a volunteer at the clean-up event on a pretty blue glazed flowerpot and she insisted that I take it for free.
• I planted some free spider plant babies in the free flowerpot.
• I bought a bra on eBay for $9.80 (with free shipping!) instead of $48. I have the same bra in a different color, so I'm not worried about trying it on in person.
• I started rooting some begonia starts from a plant I already own.
• I donated two blue Ikea bags of miscellaneous stuff (including three sets of sheets!) to Goodwill.
• I mailed a package to my sister in NYC and used PirateShip.com to save on postage.

I didn't buy a Lear Jet.
Katy Wolk-Stanley
"Use it up, wear it out, make it do or do without."
Click HERE to follow The Non-Consumer Advocate on Instagram.
Click HERE to join The Non-Consumer Advocate Facebook group.
* I think this is what he said, the Yiddish might have been slightly different.