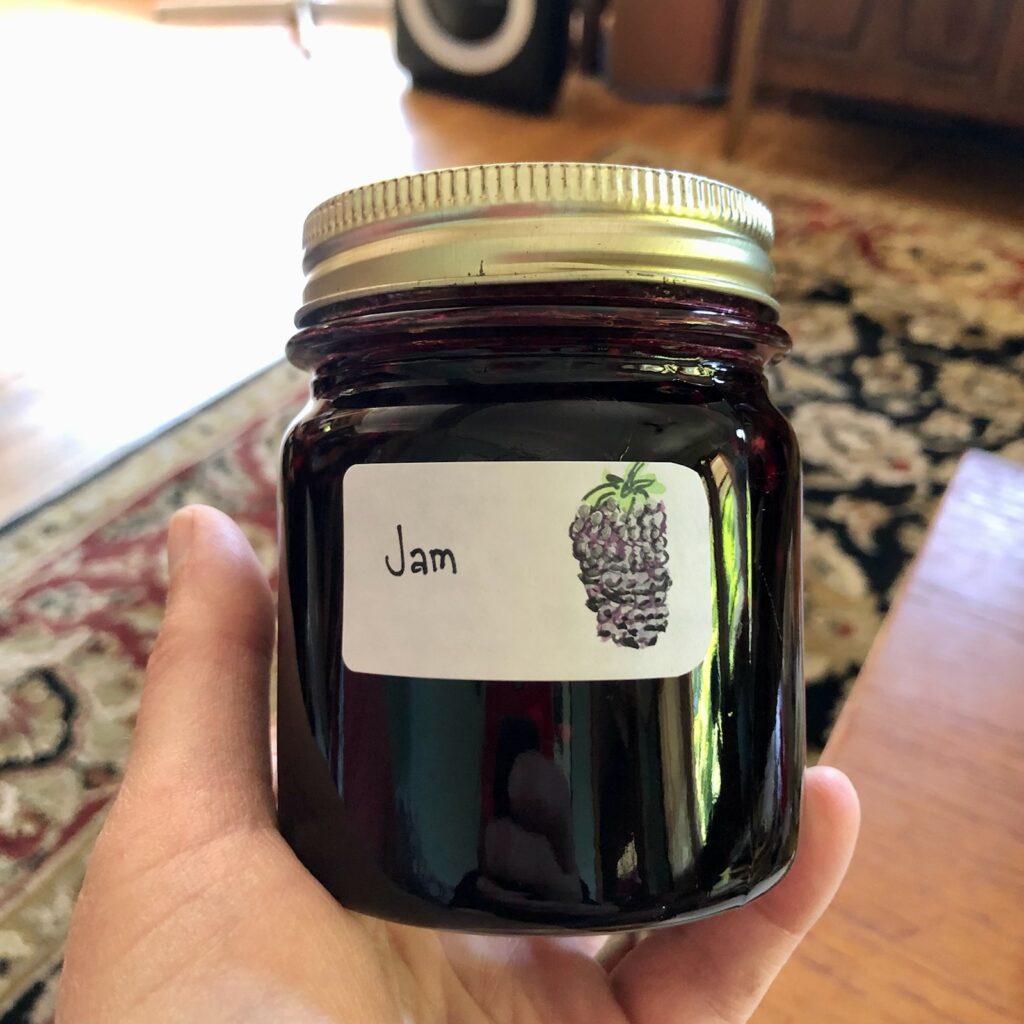 We moved our yard debris can from the side of the house to the back yard, which caused an increase of nasty flies around our back porch. (My husband is working on the foundation for this side of the house, so it's a temporary issue.) Excessive flies are nothing new, as the neighbors have a magnolia tree right on the property line, and magnolias predate bees so they're pollinated instead by flies. Yuck, yuck and more yuck!

I've seen a hack where people hang Ziploc bags filled with water and a few pennies outside to deter flies and although I'm skeptical about the efficacy of this goofy method, it's a low stakes starter effort. So I hung a couple bags out this morning to see if I can solve this problem with what I already had on hand.

I'll let you know if it seems to work.

My son and his girlfriend went raspberry and blueberry picking last weekend and we still had a half cup of squishy berries hiding at the back of the fridge. I didn't want them to go to waste, so I dropped them into a Dutch baby and holy hell was it delicious! The baked pancake didn't puff up in the way it normally would, but it was still absolute ambrosia!

Portland houses have very pretty tile address numbers, back from when the whole city was standardized in 1931. Portlanders tend to be a bit sentimental about their address numbers, including my sister who just bought a house in The Bronx. Luckily there's a local artisan who makes reproductions, so I drove across town to Hippo Hardware and snagged her numbers. I even brought in a thrifted lighting fixture piece to sell to them, which got me $10 off the purchase price.

I now have a hostess/housewarming gift for when we visit next month, and I know It'll be a big hit for my sentimental sister.

• I returned some library books a few days after they were due, but my system no longer charge late fees. Not purposely late, but it's nice to not worry about fees anymore.
• I drove around with Goodwill donations in the back of the car for a few days until I was in the neighborhood of a donation spot. This saved me from driving for a single errand.
• I emptied out, cleaned and organized our "art cart" which is a rolling six-drawer cart and was in a frustratingly jumbled state. I tested every pen and hand sharpened every pencil. I then sorted the 200+ colored pencils and then put a hundred or so in our little free library. They were gone by morning, which made me very happy!
• I hand painted some standard sticky labels for last week's blackberry jam. I then gave a jar to my son's girlfriend and one to my mother. I plan on berry picking one more time this week.

I didn't forage a Lear Jet.
Katy Wolk-Stanley
"Use it up, wear it out, make it do or do without."
Click HERE to follow The Non-Consumer Advocate on Instagram.
Click HERE to join The Non-Consumer Advocate Facebook group.