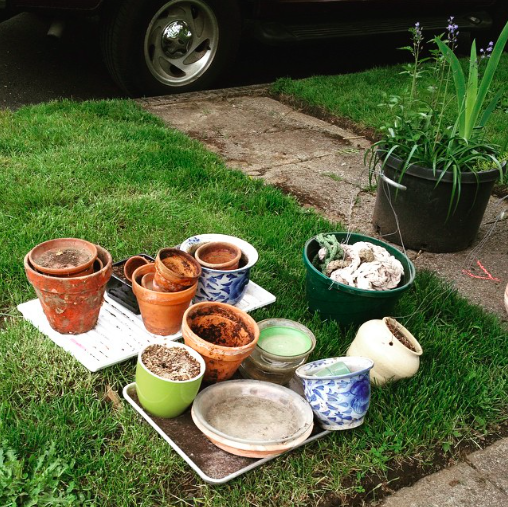 I was driving home from cleaning one of my mother's guest cottages on Sunday when I spied a cute cotton rug someone had put out on their parking strip, (Portland code for "Free — take me!") so I pulled the Prius to the curb. My sniff test revealed nothing in the category of misbehaving cat, so I threw it into the back of the car. I later walked to Fred Meyer, which took me past a house where the owners had set out a dozen or so flowerpots in their parking strip. I already had my reusable shopping bags with me, so I picked out a few pretty glazed ones. Yesterday I brought the rug and two blue-and-white glazed pots to the consignment shop and was handed $17.10 for my efforts. #Collegefund
I did save two glazed flowerpots to keep, and will fill them with plants already growing in the garden.
My older son and I have been decluttering and cleaning his room. I discovered his expensive suit jacket on a chair that seemed to have become the favorite spot for a cat. Needless to say, it was extremely wrinkled and matted with cat hair. I donned my Downton Abbey valet alter-ego and brushed the majority of the cat hair from the wool fabric. I then took a spray bottle and spritzed down the entire thing and left it on the clothesline for the afternoon. Before bed I brought the now wrinkle-free garment back inside and used a few strips of packing tape the remove the last few cat hairs. The blazer now looks perfect and I saved myself the cost of dry cleaning. Take that, Mr. Bates!
My husband replaced my crispy laptop keyboard using a $90 one he found on the internet. Of course it was secondhand, (so I can keep my buy-nothing-new Compact street cred) but my husband pointed out that my somewhat aged laptop only has used components available. It didn't come with a speaker piece, but he was somehow able to salvage the broiled one from the old keyboard which miraculously works. He will never live this down.
I cooked entirely from scratch, watched free RedBox movies and returned them on time, walked many errands, negotiated my car insurance down $448/year, batched all driving errands, brought a plate of freshly baked cookies to my son's employer, resisted any non-food purchases, cut my husband's hair, relisted a couple of Craigslist things that have been slow to sell and served another Tidbit Dinner last night consisting of leftover pesto pizza, carrots, roast beef and cheese, tortellini and chicken pasta.
Now your turn. What frugal things have you been up to?
Katy Wolk-Stanley
"Use it up, wear it out, make it do or do without."