The following is a reprint of a previously published post. Enjoy!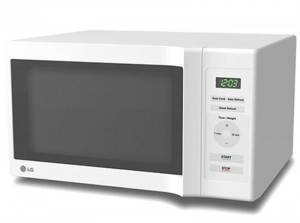 As The Non-Consumer Advocate, I wholly believe in buying used instead of new; puttering around instead of shopping and fixing instead of replacing. And when my $15 Craigslist microwave went kaput last month, (it was making Mordor-like sparks and flashes) I was totally fine with melting butter on the stovetop and reheating leftovers in the oven. It was not a big deal and I enjoyed the addition of the extra kitchen counter space.
But then my Japanese host son asked if I could please buy a microwave oven. I can't think of anything else he's asked for, so I told him I would buy one. So I started to peruse the Craigslist ads and unsuccessfully even replied to a few $30 listings. My husband priced one at Costco that was around $90.
Then I called an appliance repair business to investigate getting our old microwave fixed. I was quoted $109 for labor, plus parts.
$109 plus parts when a brand new microwave oven is $90?! I am all about walking my talk of non-consumerism, but I simply cannot prioritize my ethics over financial responsibility. I've only been getting about half the number of RN shifts the last month or so, and money is tighter around here than a glass slipper on a step-sister's foot. Sure, we have enough money to pay for all the basics, but I don't want to have to dip into savings until it's an official emergency. And honey, not having a microwave is hardly an emergency.
This started me thinking about some ways in which we spend more than we have to. We pay extra for clean energy electricity, we sponsor a Zambian girl through Child Fund International and we have opened up our home to a Japanese teaching assistant without any compensation.
I want to provide a living wage to the appliance repair person and I want to fix instead of replace, but I just can't make myself do it. I will continue to spend out in a few key areas, but I have to pick and choose the ways in which I can afford to do so.
What would you do in my situation? Would you pay to repair the microwave, buy a new one or keep an eye out for a used one? Would you risk a possibly dangerous home repair? Do you walk your talk? Please share your thoughts in the comments section below.
Katy Wolk-Stanley
"Use it up, wear it out, make it do or do without."