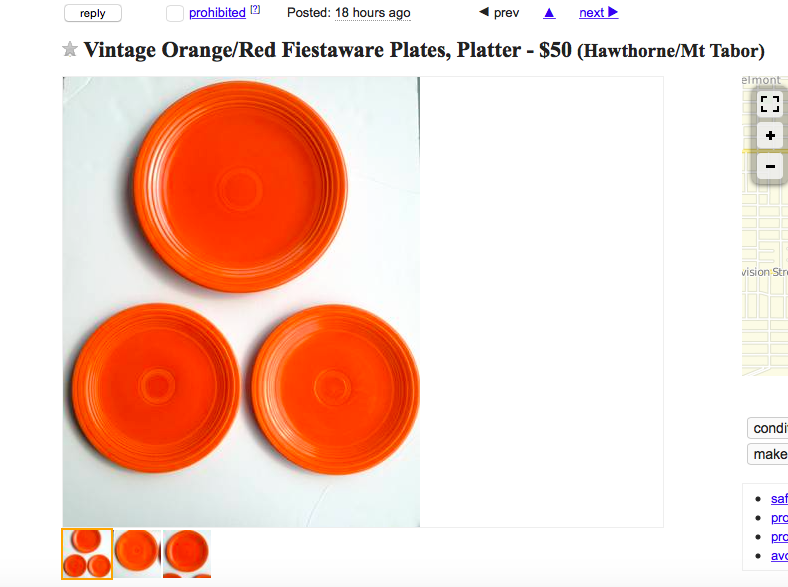 My husband's health insurance uses an online pharmacy that dispenses 90-day prescriptions for the normal price of a 30-day scrip, so we try to use it whenever possible. However, one of my husband's prescriptions ran out without us noticing. This meant I had to fill it at our nearby Walgreens. So me being me, I was kicking myself and chalked it up to paying the dreaded stupid tax. I stopped off this morning to pick up the pills and was presented with a bill for $1.04. $1.04! So all my angst was for nothing. Such a ridiculous waste of self flagellation.
I listed two items on Craigslist and one item on eBay yesterday. No interest so far, but all it takes is that one person who wants my things. Good stuff, so I should pocket a few extra bucks.
I gassed up my Prius yesterday, as the fuel ticker was flashing on and off. (Not good.) Sadly I was too far from Costco to get the cheap gas, so I resignedly pulled into my local 76 station. My eyes were drawn to a placard about free tickets to Portland Thorns (women's Major League Soccer) games when you filled up your tank. I asked the attendant about it and he gave me two vouchers good for four free tickets! My family already has two season passes, but this means all four of us can attend a game together, and then sell our other tickets! So buying the pricier gasoline potentially garnered me an extra $20! Baby, I got hustle!
We are finishing up emergency medical services (EMS) week, and my husband's employer is hosting a free barbecue tonight. Nothing fancy, but we'll all drive down for a nice low key and free meal. I do love taking a break from figuring out dinner once in a while!
Last night's dinner was homemade pizza. However, I had no canned tomatoes on hand, so I knew I'd have to make a reluctant trip to the grocery store. But then I remembered that I had a jar of kale pesto in the back of the fridge. I went ahead and diluted the pesto with a drizzle of olive oil and used it in place of tomato sauce for a delicious yet lazy solution. I was able to stay away from any grocery store temptations and support my lifestyle as a secret (and generally unsuccessful) agoraphobe.
Now your turn. What frugal things have you been up to?
Katy Wolk-Stanley
"Use it up, wear it out, make it do or do without."