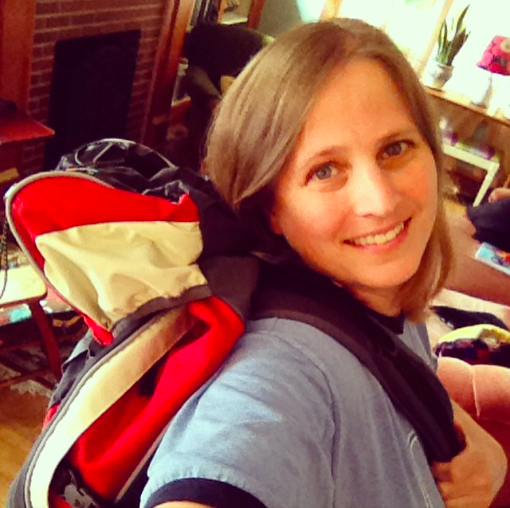 Dinner last night was supposed to be black bean and rice enchiladas, but a certain someone forgot to actually push "cook" on the rice cooker. (Okay, it was me. Are you happy now?!) Instead of ordering a pizza or getting takeout, I got creative and served "Mexican food cart style tacos." I drained the crock pot beans and dumped in a can of El Pato sauce and garlic salt. I then heated the corn tortillas in a skillet to which I added a plop dollop of  the bean mixture. A quick sprinkling of mozzarella cheese over the tacos and a couple minutes in the oven plus a sprinkling of the last of the cilantro and voila, a quick and easy dinner that did not require rice! The ability to switch up dinner plans, (or frankly any plans) when things don't go right is an extremely important life skill. Make it do, baby. Make it do.
The weekend was very warm and sunny here in Portland, and I was able to dry three loads of laundry on the clothesline. Plus, I was able to leave a load on the line overnight to get rained on. Because . . . #Portland.
I bought a $219 Deuter brand backpack at Goodwill for $14.99, which I immediately listed on Craigslist for $60. (I actually paid only eight bucks plus change, as I had the last dregs of a gift card.) I have one woman interested in buying it already, and am guessing it'll be gone within a few days. I wasn't familiar with the brand, but I could tell just looking at it that it was fancy-to-the-schmancy. Of course, the profit will go towards my sons' college fund.
I cleaned one of my mother's guest cottages Friday night, and was able to bring home a random assortment of leftover food. Pasta, soup, brown sugar and frozen berries, thank you very much! I listened to free Dave Ramsey podcasts while cleaning, which helped quell the hatred I felt as the tenant had left the house a completely crusted pig sty. (What is it with people who can't aim their toothpaste spit?!)
Both of my sons, (ages 17 and 19) worked over the weekend. My younger son at the art supply store, and my older son for a paid training session for his summer lifeguarding job. At this point I never hand over spending money, and they've certainly never received allowances. If they wanted money, they simply figured out a way to earn it.
Now your turn. What frugal things have you been up to?
Katy Wolk-Stanley
"Use it up, wear it out, make it do or do without."