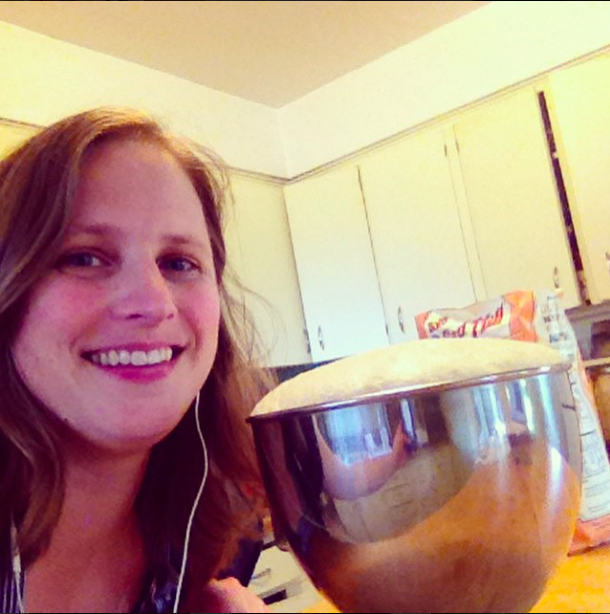 There are certain things in life that are completely and utterly joyful; big exciting (and expensive) things like travel or special events. But those occasions are hardly daily occurrences. Daily life is getting up and taking care of the day's unglamorous tasks. Making dental appointments, going to work, staying on top of laundry and preparing meal after endless meal. It can easily devolve into a never ending cycle of dullness, but I say that there is joy to be found in the seemingly mundane. 
Dinner last night was black bean burgers with The Frugal Girl's homemade buns. I could have spent a buck-and-a-half on an eight-pack of store brand buns. But where's the fun in that?
Homemade bread costs next to nothing, especially for someone like me who stocks up on loss-leader staples, and the process is so very satisfying. Never once have I made bread and thought:
"Well that was a pain in the tuchus!"
I was very pleased with what the nice rise on yesterday's dough, so I took a selfie with it. (You can see my extended arm reflected in the bowl.) And of course, I was listening to my trusty used iPhone while puttering away. (Dave Ramsey podcasts.)
Joy despite what could easily have been an extremely humdrum day.
Katy Wolk-Stanley
"Use it up, wear it out, make it do or do without."