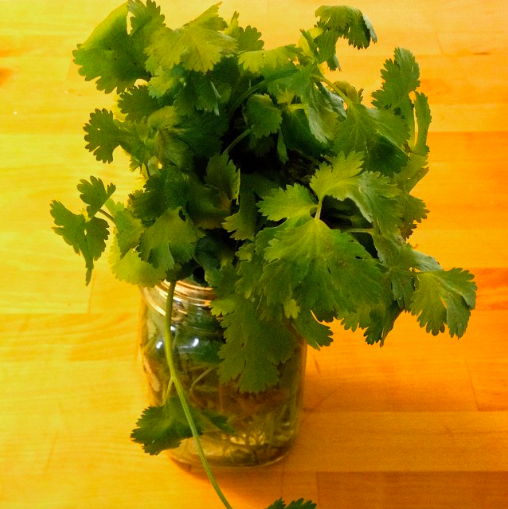 I just fixed myself a delicious yet scrappy Mexi-bowl of goodness. It used up the last of some homemade refried beans from last week, as well as the last of some cheap-o Grocery Outlet sour cream. It also included a healthy squirt of Sriracha sauce, a handful of shredded mozzarella and some trimming from a bunch of cut cilantro that like a flower bouquet, I keep set in water. The meal was completely satisfying as I get a weird thrill when I use up food. Plus of course, it was cheap, healthy and tasty.
My younger son decided at the last minute that he had too much homework to be able to go to last night's Timber's soccer game. My husband wasn't sure there'd be time to find a buyer for his ticket, but in the end he was able to sell his ticket for $22. Like any surprise income, that money will go into the college fund.
I have a crock pot full of black beans today, and a plan to assemble a batch of my black bean burgers. I have half an onion in the fridge, as well as a plethora of bread crusts in the freezer, plus some almost forgotten mini carrots, which will all be making their way into these burgers. As for the buns, I'll bake up a couple dozen of The Frugal Girl's handmade hamburger buns. Why so many buns? I'm accounting for the appetites of teenage boys who possess both hollow legs and speedy metabolisms.
The weather is hot and dry today, which is a perfect opportunity to wash our towels and dry them on the clothesline. Yes, they get hard and scratchy, but I like to see that as a luxurious spa-like loofa experience. (My cup is half scratchy.)
I once again cancelled our newspaper delivery after being drawn back in with an extremely cheap limited-time offer that just ended. I know it's only $12.99 per month, but that's $155.88 per year. Definitely worth it in my book.
Now your turn. What frugal things have you been up to?
Katy Wolk-Stanley
"Use it up, wear it out, make it do or do without."