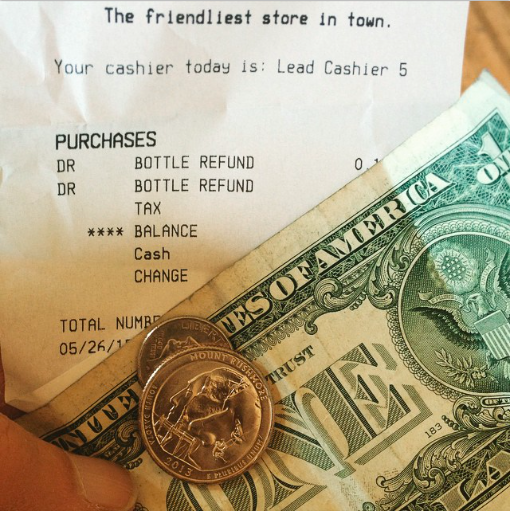 I made good use of my library yesterday by picking up a hold copy of Star Wars: The Phantom Menace. My son owns all the movies except for this one, and had been wanting to rewatch it. It took a few weeks to come in, but that made no difference as there was no hurry to watch what should have been titled "The Rise of Jar-Jar." This movie is the worst, and I'm glad I didn't spend a penny to procure it. Funny how all four of us gravitated towards it though . . .
I've been looking for an easy budgeting tool, so I decided to give Dave Ramsey's Every Dollar a try. (Of course, I chose the free version instead of the one that's $99/year.) I was well on my way to inputting all our May information when my credit union's website suddenly went down for "schedule maintenance" last night. The online program is extremely user friendly, and I can see myself keeping up with it. I've tried other methods, but never been able to stick with them, so I'm hoping this will be the one. 
My scrappy sandals finally bit the dust. (Remember how I snipped to repair them last year?) I was walking an errand yesterday and thinking about how loose and floppy they'd become when I suddenly became aware that my left shoe had suddenly become unattached from my foot. "Hmm . . .  I thought to myself. I guess this is the 'wear it out' part of 'use it up, wear it out, make it do or do without.' " I'll now take them at a shoe recycling drop-box and add "buy sandals" to my thrift shopping list.
I stopped at The Grocery Outlet yesterday to stock up on groceries and cat litter. I had a $3-off-$30 coupon from a previous receipt, so I carefully added up as I went along. I ended up having to add an extra box of cat litter to my cart to spend enough, but in the end I bought three bags of groceries plus two boxes of litter for only $30. In all I bought:
2 insanely heavy boxes of cat litter.
4 cans of diced tomatoes.
1 bottle of ketchup.
2 boxes of organic cereal.
1 bunch of cilantro
4 avocados.
1 package of chicken thighs.
4 cans of tomato paste.
2 bags of black beans.
6 containers of schwanky yogurt.
1 honeydew melon.
5.  I returned a bag of library books and renewed everything to avoid any fines, used up the last of some barbecue sauce that came with my son's birthday dinner, hung laundry on the clothesline, left laundry on the line all night to get rained on, negotiated with my son's gym to get a better rate, batched errands, retuned bottles left behind by guest cottage tenants and didn't buy a Lear Jet.
Now your turn. What frugal things have you been up to?
Katy Wolk-Stanley
"Use it up, wear it out, make it do or do without."