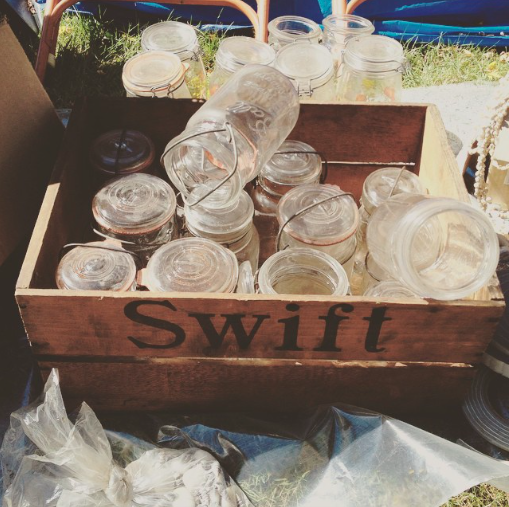 I went to the fridge to pull out some leftover enchiladas for my work lunch only to discover that they were but a distant memory. I was tempted to just buy food at the hospital cafeteria, (didn't want to be late to work!) but I assembled a quick sandwich and grabbed a couple of yogurts instead for my twelve-hour shift.
My younger son was telling me about how one of his friends is "super wasteful." When I asked for an example, he explained that this kid was throwing quarters onto the grass at school. But worry not, as my son had no qualms about picking them up to bring home for my found change challenge. Good boy. No mixup at the hospital with this one!
I sold the old Yakima rack from our totaled Subaru, and continue to have a few other Craigslist offerings going right now. Sales are slow, but it doesn't cost me anything more than a few minutes of my time, so I'll just keep relisting my stuff every few days until it sells.
I stuck two different lettuce stumps into the soil of my potted tomato plant, and they're starting to grow new leaves! (I sliced off a small amount on the bottom to help get things going.) This didn't work too well when I attempted this hack on an indoor windowsill, but being out in the full sunshine seems to be doing the trick!
I passed a small free pile on the way home from dropping my son at school today. I puttered around the house a bit and then returned to find that it had become a huge free pile. I brought home three boxes of cool vintage canning jars, plus two old metal folding chairs that will last through the revolution. I'm thinking I might spray paint them a fun color, but then again I'll probably just sell them. And are you not in love with that old wooden crate?!
Now your turn. What frugal things have you been up to?
Katy Wolk-Stanley
"Use it up, wear it out, make it do or do without."