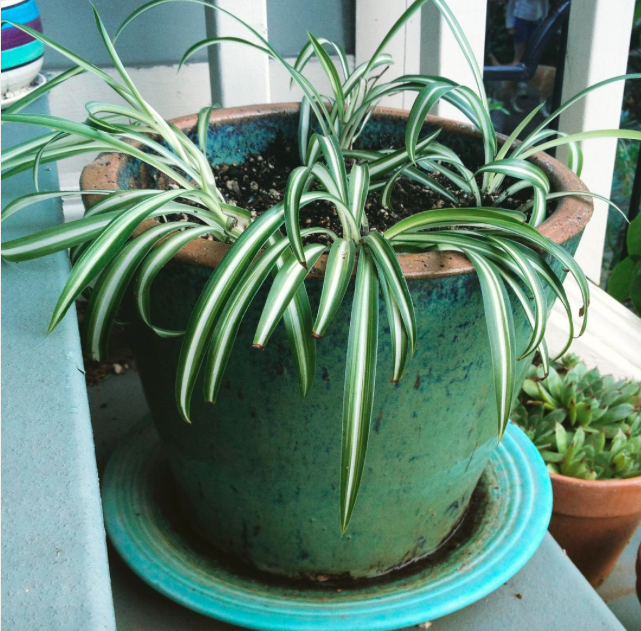 I used a buy-one-get-one-free Redbox code to rent a free single DVD. I'd read this was possible if you put the movie on hold online, rather than at the kiosk itself. We watched Ex Machina, which was intensely suspenseful and well acted. Well worth our $0.00!
I sold two things on Craigslist — A vintage wrought iron plant stand that I found standing next to a dumpster, (the stand was hanging out at the dumpster, not me) and an Amazon FireTV stick that my husband won at a basketball game. $45 more dollars for the ol' college fund!
I planted some spider plant babies that I'd pinched off my father's monster plant. I first rooted them in water for a few weeks, and I'm now looking forward to my own lush spider plant. (Spider plants are highly rated for improving indoor air quality.) I have the plant outside right now, but will transition it indoors when temperatures cool down.
I posted in my local buy nothing group asking for twin XL sheets for my son who is soon to head off to college. Surely there are people with this dorm-specific size sheets that they no longer have use for. I also offered up a scratching post, that despite my best effort my cats have shown no interest in.
Last night's dinner was a collection of leftovers and gotta-use-em-up stragglers. Bean and cheese quesadillas, baked ziti, cubed cantaloupe and bangers and mash all fed my family while serving to avoid food waste. Plus, I didn't have to cook . . . yay!
Now your turn. What frugal things have you been up to?
Katy Wolk-Stanley
"Use it up, wear it out, make it do or do without."
Click HERE to follow The Non-Consumer Advocate on Twitter.
Click HERE to follow The Non-Consumer Advocate on Instagram.
Click HERE to join The Non-Consumer Advocate Facebook group.
Click HERE to follow The Non-Consumer Advocate on Pinterest.