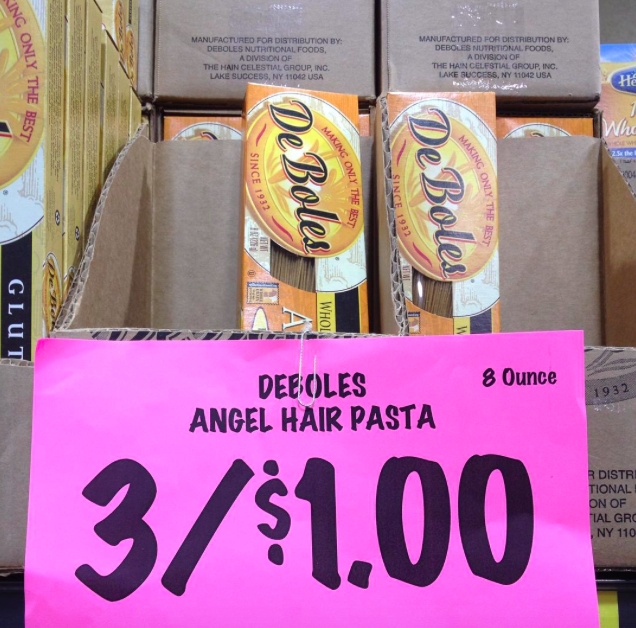 I prepared a noodle stir fry last night that included two boxes of 33¢ angel hair pasta from The Grocery Outlet and a large amount of 99¢/lb broccoli. It was pretty tasty and my husband chose to bring leftovers for his work lunch today instead of a sandwich, which was a once-a-decade occurrence.
I sold some cool printed vintage glass jars through Craigslist that I'd pulled from a free pile. #collegefund
My younger son consolidated his books from two shelves down to one in order to have room to display his sneaker collection. I took the discards to Powell's bookstore and my son now has $42 in store credit that he can use when there's a book he's wanting to buy. I donated the rest to Goodwill and wrote a detailed list of hardbacks vs. paperbacks for when tax time rolls around.
I'm taking care of my neighbor's cats and garden while they're out of town. Today was our every-other-week garbage pickup, so I set out their bin and noticed that it was half empty. I went ahead and topped it up with some trash we'd accumulated from cleaning out an area of our basement. We share a garbage pickup with our other neighbors, which means there's rarely room for extra garbage. (Trash happy!) Also, I needed to fax financial papers to my sons' university, so I texted my out of town neighbor who told me it was fine to use their fax machine. Saved me both money and an errand!
I finished reading my son's library copy of The Fault in Our Stars, my older son and I watched a DVD of The Giver thanks to a free Redbox promo code, (just text MOVIENIGHT to 727272) my clothesline has been in almost constant use, my husband sold some tickets to an upcoming Portland Thorns soccer game, both of my sons have been putting in many hours at their jobs and my husband was awarded a promotion at work.
Now your turn. What frugal things have you been up to?
Katy Wolk-Stanley
"Use it up, wear it out, make it do or do without."
Click HERE to follow The Non-Consumer Advocate on Twitter.
Click HERE to follow The Non-Consumer Advocate on Instagram.
Click HERE to join The Non-Consumer Advocate Facebook group.
Click HERE to follow The Non-Consumer Advocate on Pinterest.