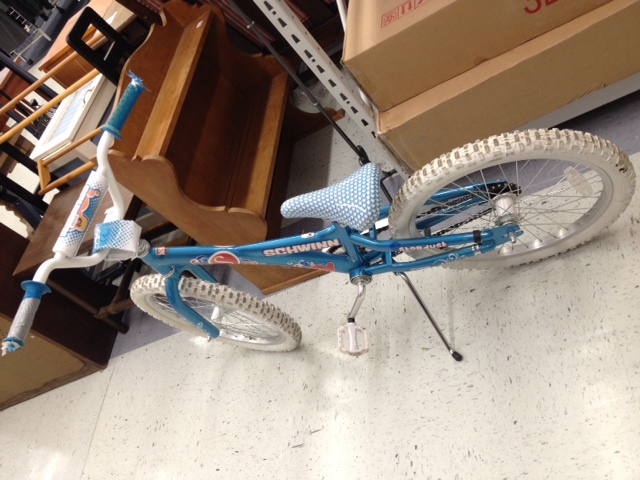 I had a $6.99 Goodwill store credit expiring today, so I swung by one of my favorite locations after dropping my son at work. I wasn't looking for anything in particular, although I always keep an eye out for things I can resell. I'm also needing to pick up a few particular items for my son who's off to college next month, so I snatched up a 50¢ plastic tote perfect for his dorm room toiletries. But my real score was a $210 bicycle priced at $7.99. I've already posted the bike on Craigslist and will use the proceeds towards our looming college tuition payment.
I passed by my favorite antique mall after dropping my son at work. However, since I'm spending zero unnecessary dollars this year, I shopped from the dumpsters behind the building. My efforts were not wasted as one of the vendors had placed a vintage American Tourister train case next to the trash. I brought it home and have it listed it on Craigslist. Very cute.
My next-door-neighbor is taking me out to lunch tomorrow as a thank you for taking care of her garden and cats while she was out of town.
The Paypal payment for my $25 Swagbucks gift card came through, as did an eBates $25 reward. I almost never shop online, but I do use eBates when booking hotel rooms and plane tickets. Again . . . college fund. (Will it ever end? What, no? Crap.)
I walked to the grocery store and fought the impulse to only bought what was on my list, (fish, tea, milk) I was given six cups of grapefruit segments left behind by a guest cottage tenant, I brought my own lunch to work, I listened to free podcasts on my iPhone4 and my sons and I watched the documentary The True Cost on Netflix, all about the environmental and societal effects of the inflated fashion industry. A must see for any non-consumer who wants to be deliberate about their purchases.
Now your turn. What frugal things have you been up to?
Katy Wolk-Stanley
"Use it up, wear it out, make it do or do without."
Click HERE to follow The Non-Consumer Advocate on Twitter.
Click HERE to follow The Non-Consumer Advocate on Instagram.
Click HERE to join The Non-Consumer Advocate Facebook group.
Click HERE to follow The Non-Consumer Advocate on Pinterest.