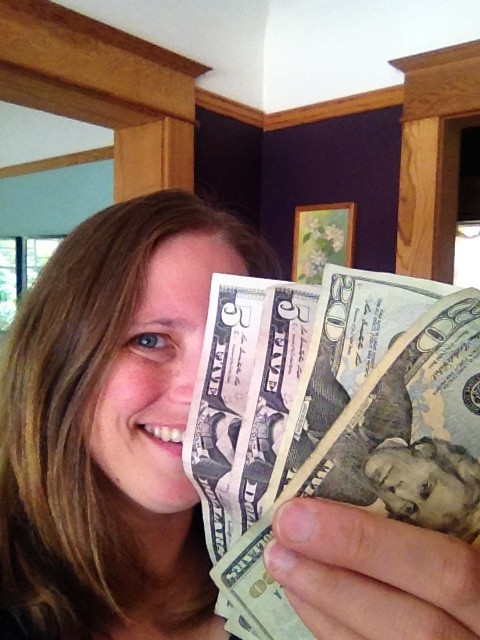 The weather's been really hot here, so I walked to Fred Meyer after dinner for some ice cream. I'd planned on buying Tillamook brand since I had a $1-off coupon, but I checked the store circular and found a coupon for $2.50 half-gallons of Dreyers brand. I switched my purchase to the lesser brand and walked home to a happy family. Plus, I bought nothing else, which was the true savings.
I sold a curbside-picked dresser on Craiglist for $25, and then sold the $8 Goodwill bike for $25. That's $42 for my son's college fund! I also signed up for hospital work shifts through mid-October.
I've hung laundry every day. Using a clothesline forces me to not let laundry pile up as Oregon evaporation cannot be hurried.
Despite the hot weather I've been getting by with tap water and sun tea, plus hot tea in the mornings. I prefer to not drink my dollars away, alcoholic or otherwise.
I cleaned out the basement the other day, and my husband just told me he was able to actually find everything he needed for a project instead of re-buying what he already owns! (My husband has many great qualities, but keeping his stuff organized is not one of them. This is despite being impressively-organized at work.)
Now your turn. What frugal things have you been up to?
Katy Wolk-Stanley
"Use it up, wear it out, make it do or do without."
Click HERE to follow The Non-Consumer Advocate on Twitter.
Click HERE to follow The Non-Consumer Advocate on Instagram.
Click HERE to join The Non-Consumer Advocate Facebook group.
Click HERE to follow The Non-Consumer Advocate on Pinterest.