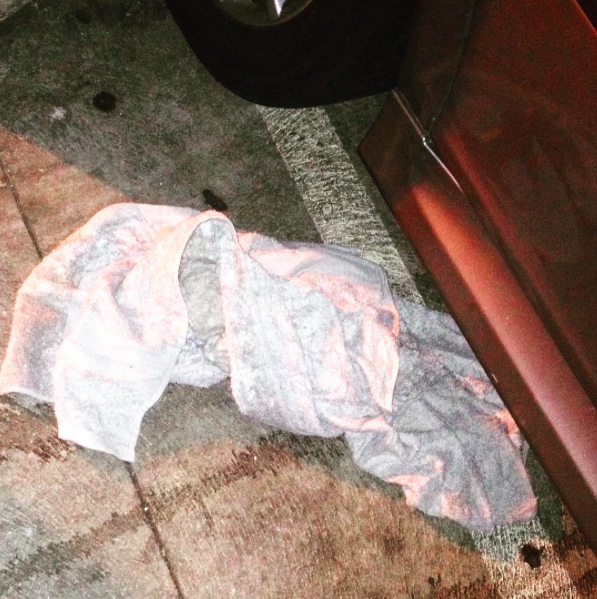 Although I don't strive for a 100% zero waste lifestyle, much of how my family lives falls under that category. We buy used, (zero packaging) mend instead of replace and choose reusable items whenever possible. This past week was no more a Zero Waste Week than any other week, but it still included many zero waste components.
I brought home a towel from the floor of my hospital's parking garage. I'd noticed it when I came into work in the morning, and saw that it was still there when I finished my shift. I noted that a different car was now parked next to my Prius, so I brought it home. I needed two towels for my son to take to college, so this was a perfect find for me. And as a bonus, I noticed that it had the texture of a brand new towel. Score!
I brought my own lunch to work yesterday which included leftovers in Pyrex, a cloth napkin and a spoon from home. As always, my thrifted ceramic travel mug came to work with me as well.
I mended my husband's insulated lunch bag, which was becoming frayed.
My sister broke my bought-it-on-Craiglist rug shampooer, but was able to source the replacement part to repair it. This appliance has brought countless thrift store rugs back to life, which I was then able to resell for a profit. Rugs that would otherwise have been landfill bound. Not to mention that it keeps my home looking fresh and clean, so I never have a need to replace worn out looking furniture. I lend it out frequently.
I washed out my son's fabric toiletry kit, as the inside was smeared with toothpaste. I bought this zipper-case at the Sampsonite outlet store back in college, and it's large enough that there's no need to buy wasteful travel-size toiletries. Perfect for car vacations.
I'm keeping a running and detailed list of things my son will need when he moves into his college dorm next month.  The school has an annual Fred Meyer night, where students are bussed from the campus to the Fred Meyer store to buy all their dorm and school essentials. My goal is to make sure my son already has everything he needs from home. No reason to wastefully buy brand new stuff that already exists in our home. (Of course that list includes things such a reusable water bottle and a travel mug!)
A blog follower read that I was keeping an eye out for twin XL sheets and mailed her unused set to me. (Thank you, Lauren!) I still need to source a second set, but that should be a fairly easy thrift hunt, as barely anyone has a need for this size once their college days are over.
I cleaned one of my mother's guest cottages and brought home half a bottle of white wine, six eggs, half a large container of Greek yogurt, five Bud Light tall boys and two-and-a-half sticks of Tillamook butter.
I brought home a pink pony tail holder from the entrance of the SOU dining hall.
None of these zero waste activities were part of a special blog stunt, just components of our daily lives. Living thoughtfully with an eye towards waste avoidance.
Do you try and work zero waste into your life? Please share your stories in the comments section below.
Katy Wolk-Stanley
"Use it up, wear it out, make it do or do without."
Click HERE to follow The Non-Consumer Advocate on Twitter.
Click HERE to follow The Non-Consumer Advocate on Instagram.
Click HERE to join The Non-Consumer Advocate Facebook group.
Click HERE to follow The Non-Consumer Advocate on Pinterest.