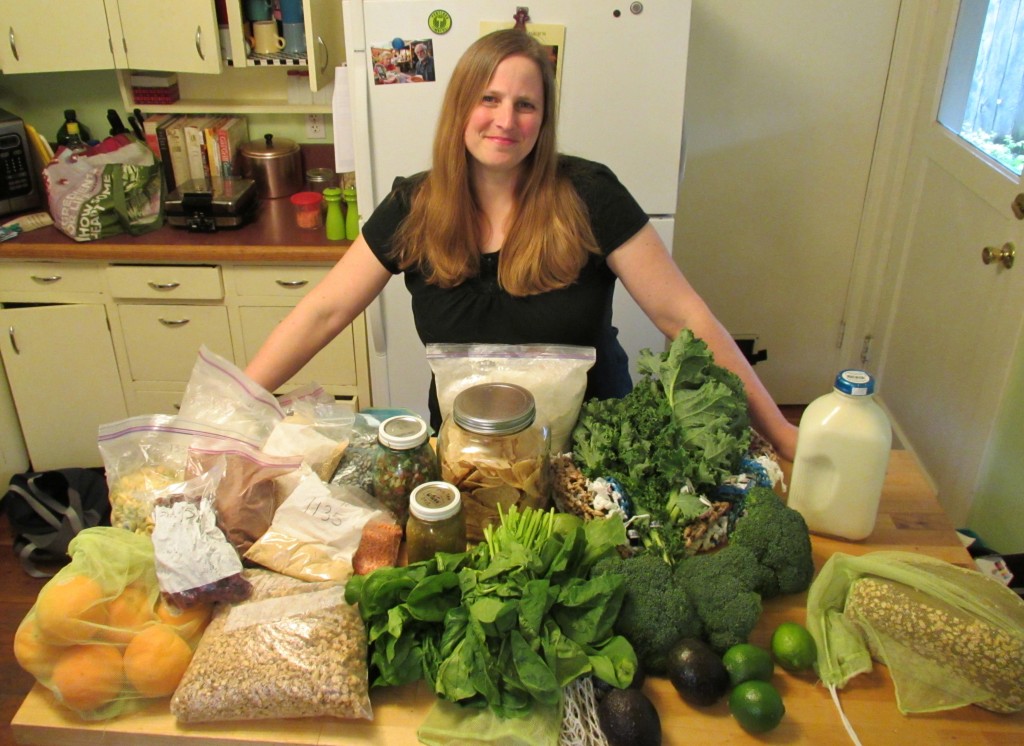 Today Day Six of the Zero Waste Week and although I normally take a break from blogging on Saturdays, today is a bonus day!
Why?
Because yesterday was all about stocking the kitchen back up on Zero Waste goodies. Unlike regular grocery shopping which can be accomplished at one or two locations, Zero Waste has proven to require multiple stops. But it's not actually as bad as it sounds, as most everything is close to the house.
First off was Winco, which is a local no frills and inexpensive grocery chain. Sadly, it's pretty far from the house, so I don't end up shopping there much. This is a lost opportunity, as they are cheap, cheap cheap-ity cheap. 
Example?
The yogurt covered pretzels at New Season's were on sale at $7.49 down from $7.99 per pound. At Winco the exact same product, (with identical code) was $1.88/pound not on sale.
So yeah, much cheaper.
My first step at the store was to bring my empty glass containers to the checkout to get the tare weight. The woman was very confused, but a nearby checker explained that Winco no longer allows you to bring your own glass containers for "health code reasons." We had a conversation about how New Seasons, Fred Meyer and Safeway all allow this, but there was no budging on the matter. Luckily, I brought a large amount of my own endlessly washed Ziploc bags.
I kind of wondered whether the bags were verboten as well, but I decided to take a page from the military and "don't ask, don't tell." For those of you who think I was being dishonest, I made no secret of filling my bags, and even had an employee helping me at one point, so there was ample opportunity for them to correct me.
From the bulk bins I bought yogurt covered pretzels, dried cranberries, flour, baking cocoa, quinoa, pinto beans, tortellini, ground ginger, cinnamon, Gardetto's snack mix, chocolate chips, lentils and granola. Oddly, they didn't have bulk tea, which was on my list.
I also bought a large amount of loose produce, which I either bought sans-bag, (What? Three limes don't require their own bag?!!) or put in my reusable mesh produce bags.
One thing that I really like about shopping Winco, is that it's an incredible mixture of citizens. Multiple nationalities and a wide range of income levels are all shopping together. It's awesome!
Next stop was The Dollar Tree store, where I bought fifteen bars of paper wrapped soap for $5. Although I was okay with buying a single bar of unpackaged $5 shaving soap, I can simply not make the jump from 33¢ soap to $5 soap for showering. And since we always recycle the paper packaging, (and buy enough to last for six months) I am at peace with this purchase.
I then swung around to Hawthorne Boulevard, where I stopped at La Palapa for bulk chips and salsa, Grand Central Bakery for bread, Safeway for kale, (hello . . . on sale for 99¢ per bunch!) and finally New Season's for glass bottled milk and the free range and hormone-free eggs that we always buy.
Whew . . .
This was an unusual day, as six grocery stops is completely insane. However, I feel like I've finally figured out the how and where to buy the Zero Waste equivalent of our groceries without taking out a second mortgage on our home.
Let's just say we're past inventing the wheel, and are now in the Beta testing phase.
Katy Wolk-Stanley