My week has started out on a decidedly non-frugal note. I'd briefly mentioned that I've been disputing a charge on my son's university bill, but had been deliberately vague about the issue as I didn't feel that it needed to be written about at the time. Suffice it to say that due to some extremely convoluted issues related to my son only being a part-time student and being unaware that he'd been assigned an official e-mail account, we were charged $694 for a term of health insurance despite already having it. We disputed the charge all the way up the ladder and lost. So yesterday my son and I went across town and to paid the fee in person. A fee for a service my son will never use.
But having overpaid in one area doesn't mean that all the small and medium sized things I normally do to save money are suddenly not worth the effort. I'll continue to watch my pennies and I'll still put the work in to spend less than we earn and put money aside for my sons' college expenses.
So here you go — Five Frugal Things: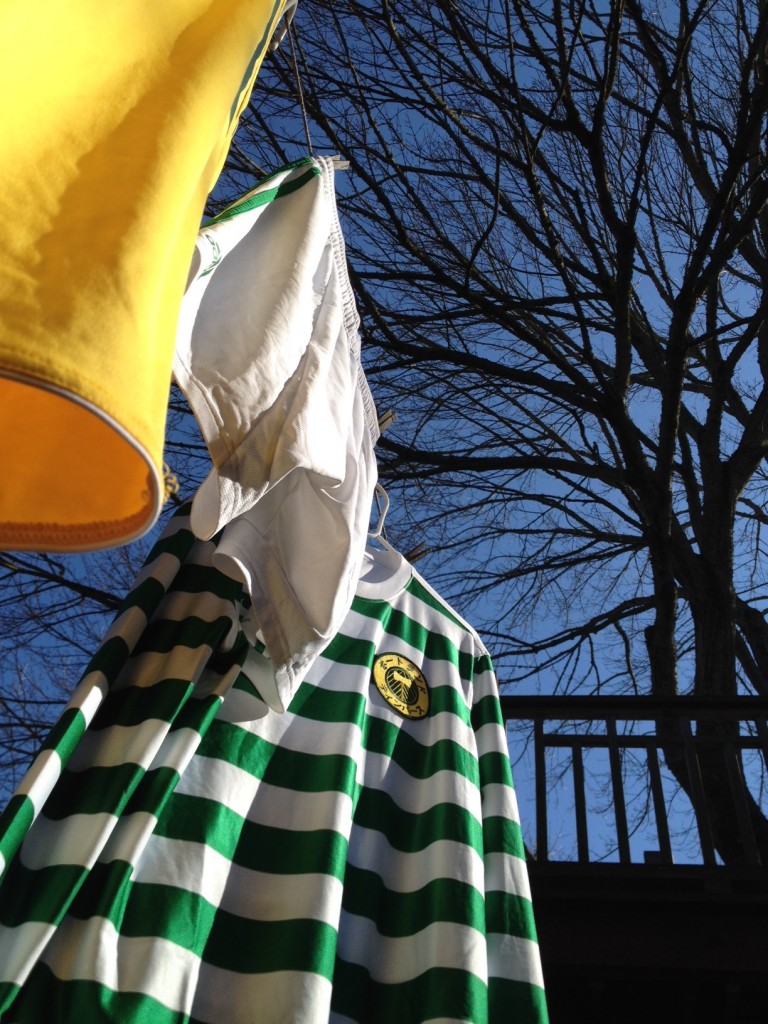 With the extended warm weather here in Portland, I've been starting to use the clothesline again to dry my family's laundry. It's amazing how much sunnier an area it is when my huge maple tree has no leaves. I can't remember if I've ever used it this early in the season before.
My next door neighbor and I met up yesterday to go through our Chinook coupon books together. She gave me the coupons she wouldn't use, and I gave her the ones I won't. She now has coupons for restaurants she and her husband enjoy, and I have extra ones for The Grocery Outlet and other places that I frequent.
Our dinner last night was a big pot of chicken soup with dumplings. I boiled up our leftover chicken thighs from the night before to make the soup and simply added a few carrots, herbs, garlic and frozen peas to round it out.
Some of my husband's old work uniforms were no longer usable due to broken zippers or being extremely faded. They had both his first and last names embroidered on them, so were not a good candidate to be donated to Goodwill. Plus, since my husband works in emergency services, it wouldn't be so good for the general public to be wearing his official uniforms. I discovered a textile recycling drop box in my neighborhood and dropped the uniforms off, which was great as they'd been sitting in my house for years! Nothing frugal about holding onto useless items.
I took an envelope full of coins that had been part of my sons' college fund to the credit union to covert to bills. Of course I swept my hand under the machine and came up with . . . $1.61.  Not exactly $694, but it's a start.
Sigh . . .
Now your turn. What frugal things have you been up to?
Katy Wolk-Stanley
"Use it up, wear it out, make it do or do without."