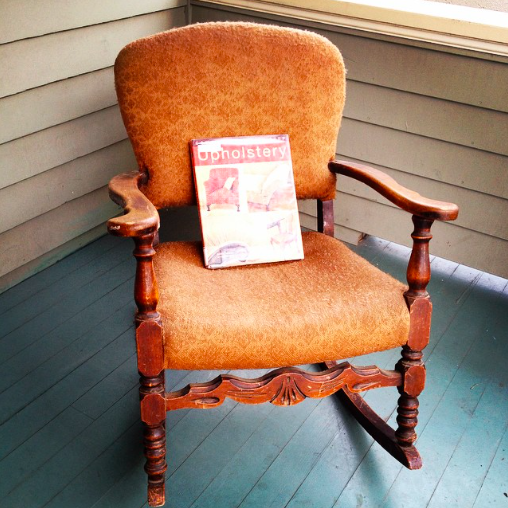 I brought home this free curbside rocking chair last week, and plan to use it to ratchet up my upholstering game. Add in a how-to library book and I smell a project!
My son checked out a TI-84 graphing calculator from his high school last year and then promptly misplaced it. (This especially irked me as he already owns this exact calculator which was handed down to him from his uncle.) I called the school to ask if we could replace the calculator with a used but functional one instead of paying the $100 charge. Luckily, they were very open to this option, and actually said they wished more parents would approach it this way. My plan had been to pick one up on Craigslist, but I never got around to it. Instead I sent my son to school with his handed-down calculator and his account is now clear. He's done with math until the end of high school, so he won't need another calculator until college, at which point we'll source a cheap used one.
You all know that I've been working to scrounge up large glass jars for my bulk purchased oatmeal. Luckily my friend Lise reads the blog and had two big jars for the taking. The downside was that they were the fancy gasket seal ones, but were completely disassembled and included a crazy number of extra parts. They were mine for the taking, but I had to figure out which parts went with which jars. They sat in a bag for a few days until I finally dumped it all out while watching Face Off with my son last night. (We love reality shows where the contestants have to demonstrate their skill and creativity.) It took awhile, but I was finally able to build two complete jars, which have been scrubbed out and will soon be filled with oatmeal. Side note — anyone interested in financing and helping to produce a reality TV show where I get weird random stuff for free and then fix or repurpose it for practical usage? What, no? Never mind then.
I was driving around yesterday and realized that my gas tank was too low for comfort. I had plans to go to Costco later in the day, but didn't want to gamble on whether I had enough gas to run a few errands and then actually drive the eleven miles out to Costco. Instead of filling up at the pricier station in my neighborhood, I went ahead and bought $5 of gasoline and then filled the rest of the tank with the cheaper Costco gas. The difference is usually at least 30¢ per gallon, so the 19 gallons I bought at Costco saved me around $5.70. Worth the effort in my book.
While at Costco I was kind of hungry, but I just ate the samples which filled me up enough until I got home. I bought dried tortellini, which became our dinner once mixed with homemade kale pesto. (I crumbled in a couple pieces of Grocery Outlet bacon to amp up the deliciousness.) I also cooked up a batch of dried black beans in the crock pot yesterday, which will become part of our frugal burrito dinner for tonight's dinner!
Now your turn. What frugal things have you been up to? 
Katy Wolk-Stanley
"Use it up, wear it out, make it do or do without."