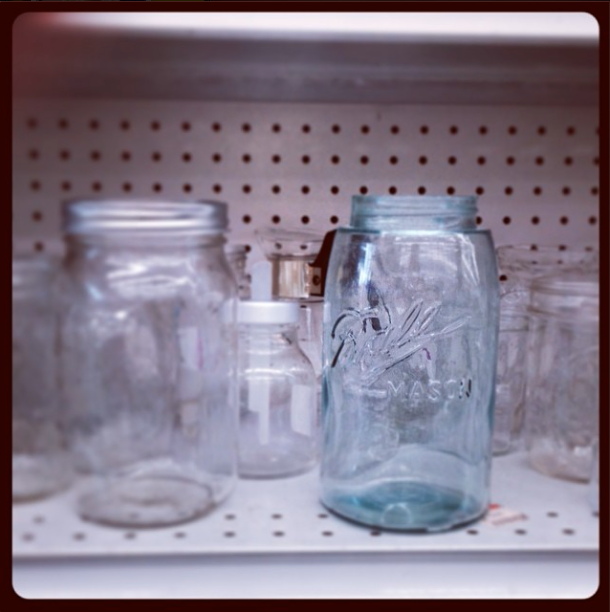 I drove to Costco yesterday to cash my annual American Express Costco rebate. I was handed $322.23, and walked out with a jug of honey and a 42-pound bag of cat litter. I also topped up the gas tank, even though it only needed five gallons. The price of gas is always cheaper at Costco, so even a few gallons of gas is worth it. Needless to say, I partook of the free food samples and then walked past the food court.
I stopped at a few thrift shops on the drive home and picked up a couple of items. I bought a 29¢ antique Ball canning jar and a cheap stack of Noritake Marguerite plates, which I will resell on eBay. How did I know to buy these bargain plates? I did a Completed Listings search on eBay through my iPhone.
I took a pair of hand-me-down Lucky Brand pants that were too long for my son and hemmed them. My older son does not like jeans or anything tight, so finding him pants is a never ending struggle. He now has a free brand new looking pair of pants that he's willing to wear, and they're even custom tailored!
I snuggled up with son the other day to watch a library DVD of Argo. The movie was fantastic, (although I may have added a few extra grey hairs from the dramatic tension.) I love that my sons are now old enough to watch adult movies. I can't get enough of all those free library movies!
I picked up a free tub of chocolate chip cookie dough from Papa Murphy's while walking home from the grocery store. We have a fat stack of these free coupons which we use infrequently enough to keep it as a treat. (They give them out at Timbers games, and my husband's vegan friends always give us theirs.) We baked a dozen last night as a treat, and the second dozen for today's school lunches.
Now your turn. What frugal things have you been doing?
Katy Wolk-Stanley