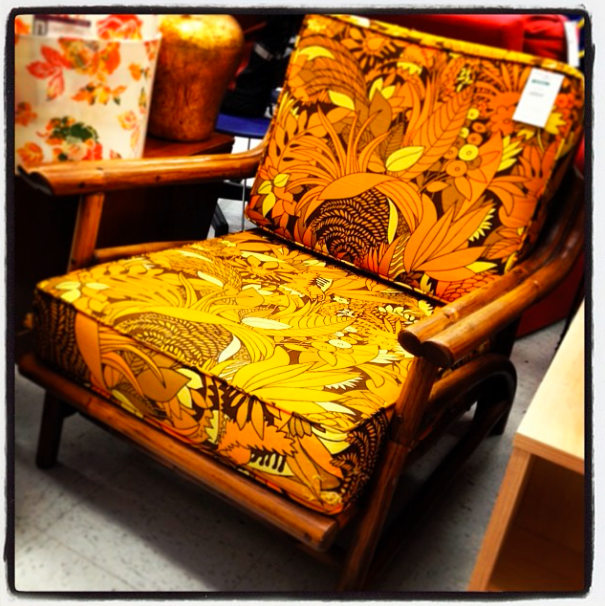 I used a $10-off-$50 Safeway coupon, Just4U coupons and paper coupons yesterday for a huge grocery shopping trip. I spent $56.65 and saved $38.03. (Six bags of groceries, bay-bee!) And best of all, I bought nothing that wasn't on my list.
I dropped a big box of my younger son's outgrown clothes at the children's consignment shop. She took almost everything and even handed me $5.20 in cash for a small amount of stuff I'd brought in last year. Of course I put the $5.20 in the college fund as it was completely unexpected.
I dropped a couple boxes of miscellaneous stuff at Goodwill and then browsed around. I fell in love with an overpriced $70 groovy vintage chair, but only bought a sweet little $1.99 vintage burlap lampshade. (I used a Christmas gift card to pay for it.)
I was getting frustrated with the messy and chronically unorganized basket of soccer gear in my living room, but I was able to figure out a solution without having to buy anything. I brought down zip-up mesh laundry bags, (leftover from my son's summer in Japan) and created categories. Because everything is nylon and slippery, nothing stays folded, but now all soccer socks are in a single bag, all jerseys are in a single bag and all shorts have, wait for it . . .  their own bag! With three people playing in four different leagues, some of which require different stuff for practice vs. games, I think I've found a workable solution.
We had planned on the four of us seeing a movie last Saturday, (my birthday!) but not one current release drew me in. We had three free movie tickets from a study my husband is participating in, so we would've had to buy one $9 ticket. Instead, we rented Silver Linings Playbook for $1.20 through Redbox, which I'd been wanting to see since last year. And now we can save those movie tickets until we have four of them!
Now your turn. What frugal things have you been up to?
Katy Wolk-Stanley