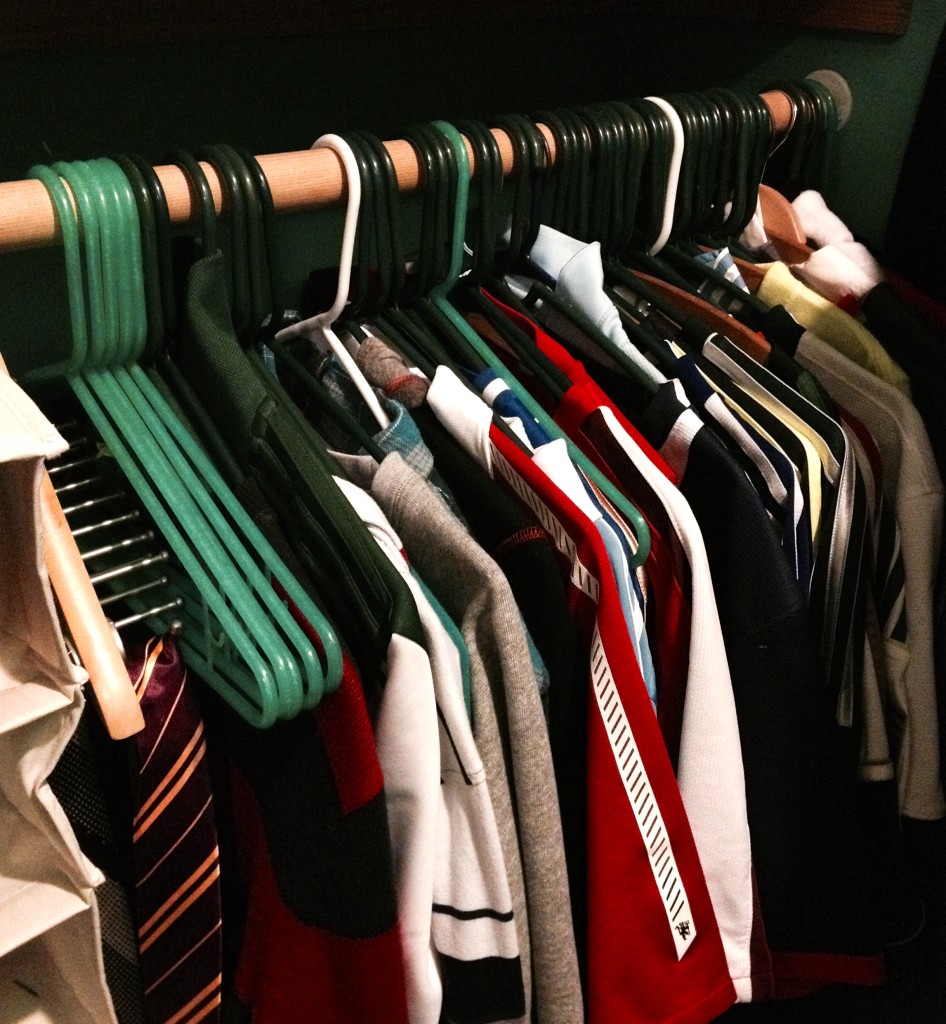 Because consumer goods have become so unbelievably cheap, it's easy to just buy new stuff whenever a want or need strikes. When The Dollar Tree sells multipacks of socks for a buck and Old Navy sells flip-flops for the same price, where's the incentive to buy used, fix what's broken or hold off on a new purchase?
But I follow The Compact and I try to buy nothing new. It's something I've been doing since 2007.
Need an example?
My fifteen-year-old son collects international soccer jerseys, (which he finds at Goodwill) and carefully hangs them all in his closet. However, some recent good scores means he currently has more jerseys than hangers. I really like an organized closet and have scored enough wooden hangers through thrifting to supply both our coat closet, (no door, so it needs to look tidy) and our bedroom closet. However, my son's closet is a mish-mash of random tubular hangers. I looked at his closet and had a flash thought that maybe I should start fresh and buy him a few packs of brand new white hangers.
After all, the hanger packs are only a buck apiece.
But I feel strongly about not supporting unnecessary manufacture of new goods, especially plastic ones with a limited life span. I realized that I had plenty of mismatched hangers on the mostly-shut-down-for-winter outdoor clothesline. Yes, they were kind of grubby, but I put them through the dishwasher with the next load and now my son has everything he needs. They're neither austere wood, nor does he have a single color scheme, but he now has enough hangers.
My son asked for more hangers, not matching hangers!
By following The Compact and only buying used, I have a buffer zone between myself and the buying of new or even used items. I have to think twice before I make a purchase, and because it's a pain in the tuchus to find specific used things, it sparks my make it do creativity.
And to think twice before buying new stuff will never be regretted. And anyway, the last thing this planet needs are more plastic hangers.
Katy Wolk-Stanley