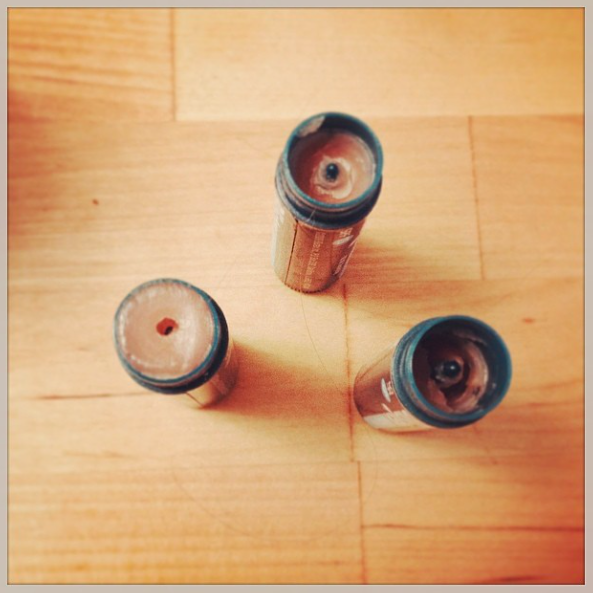 I took three almost empty Blistex containers and three of my husband's almost empty deodorant containers and gleaned every last drop/smear/bit-o-goo to create one functional container of each. Task specific tools included a chopstick, a butter knife and hemostats. Bizarrely satisfying, as they looked pretty much empty, yet still contained quite a bit of product.
I have yet to do a big grocery shopping trip since our return, so our fridge is still pretty much empty. However, I was able to cobble together a decent stir-fry meal last night using rice, frozen peas, frozen shrimp and soy sauce. Yummy and quite satisfying.
My son walked down the boulevard last night to look for jeans using a leftover-from-Christmas Buffalo Exchange gift card. This hipster consignment shop is close to the Ben and Jerry's scoop shop which reminded me that my reader Kate had gifted me with two coupons for free pints of ice cream when she came to the Library of Congress meetup. (She also gave me two empty Starbucks bags which can be exchanged for free drip coffees, four hot cocoa packets and a teeny tub of Nutella. What can I say? She apparently gets me!) I handed the coupons over and we were all rewarded with a delicious treat. Thank you, Kate!
My garden is starting to come to life, so I slogged through the mud walked around the yard with some scissors and a mission. I now have three lovely bud vases filled with spring flowers on my kitchen windowsill and they didn't cost me a thing!
I made sure to promptly return all the borrowed suitcases yesterday to friends and neighbors. Thank you, Sasha and Nancy for the roll-aboards, and thank you to Chris for the garment bag. I love that everyone in my circle is open to sharing their belongings, and in return they feel free asking to borrow pretty much anything that we own. Yay, community!
Now your turn. What frugal things have you been doing?
Katy Wolk-Stanley