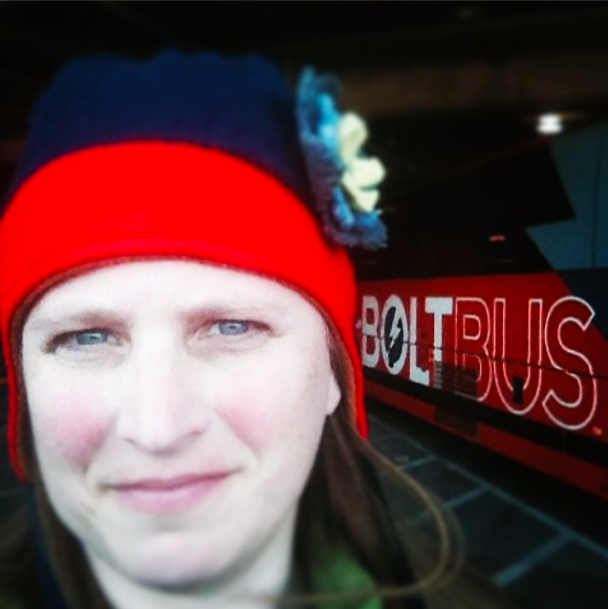 However much effort you put into frugal traveling, there are simply some areas where you overspend. (Okay, okay . . . I guess you could hitchhike to go camping, but that's simply not my family's style of vacation.) You can put a full effort into eating frugally and staying away from buying stuff, but some categories simply defy frugality.
Example?
Transportation.
Although the Portland to Washington D.C. tickets for my husband and myself were free, we did have to pay for our sons. And at $588 apiece, the tickets packed a real wallop. (Thanks, spring break!) I balanced this by booking $17 Bolt Bus tickets from Washington D.C. to New York City. Unfortunately, I accidentally booked them from NYC -> D.C., and it took a $12 rebooking fee to fix that mess. And then it turned out that my husband had an appointment to meet with Congressman Blumenauer late on Wednesday, so I had to change the tickets again.
Boom . . . another $12!
My husband was extremely suspicious of my cheap bus plan, but he ended up being completely satisfied with the experience. However, he later looked up reviews, got scared about the return trip to D.C., (Flying in and out of D.C. saved us around $400 per ticket vs. flying out of NYC.) and booked us a rental car. And suddenly our return to D.C. went from $68 to $200 by the time rental fees, tolls and gasoline were added. Not to mention the stress of finding a gas station in D.C. and the rental car return place which turned out not to be at the airport.
While in New York, we exclusively took the subway. However, the days of $1 tokens are a thing of the past, and $2.50 on a Metro Card is the new game. (Shows how long ago I lived in NYC!) My sister briefly burst my bubble by saying we should have bought 7-day unlimited Metro Cards, but since that would have set us back $120, such was not the case.
We took 32 subway rides all together, which set us back $80.
We kept our subway costs down by batching our days. For example, on the day we went to The Museum of Modern Art, we ate $1.50 slices of pizza a few blocks away and then split up to look at the American Girl Doll store, (me and my niece) store and the Nintendo Store, (my husband and son.) And when we met up with a friend in the financial district, we then had lunch with another old friend in SOHO. This way we only took two subway trips per day.
And of course we walked, walked and walked. Which is all we did in D.C., which helped to balance our transportation costs as well.
However, it's easy to forget when tallying up expenses that transportation, food and entertainment would have happened at home as well. It's not like we wouldn't have driven had we stayed put in Portland.
There was no way around the $1176 for our son's plane tickets, but we did do our best to reign in the rest of our transportation expenditures.
Do you have favorite ways to keep your travel expenses low? Please share your ideas in the comments section below.
Katy Wolk-Stanley